How to Write an Upsell Email to Increase Average Order Size
One of the simplest methods to increase your average order value and boost your bottom line is the upsell.
Surprisingly, many entrepreneurs overlook this golden sales opportunity, dedicating all their time to promotional emails and investing in holiday campaigns. However, they miss an excellent chance to generate revenue just out of nothing.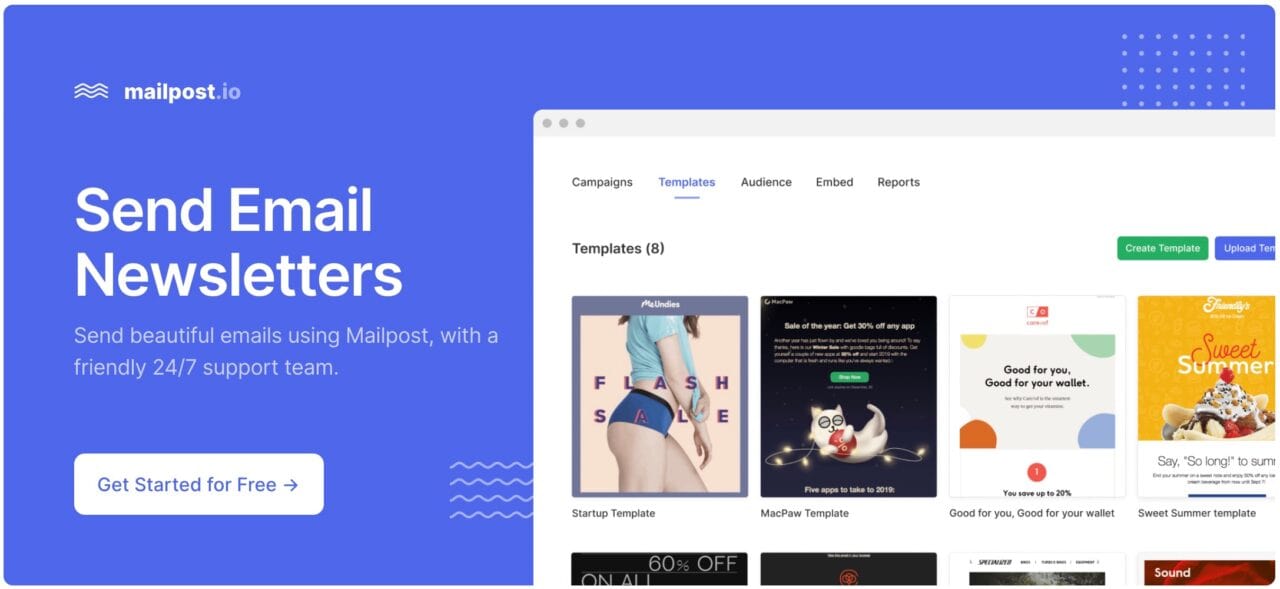 According to studies, selling to existing customers is easier, cheaper, and 70% more effective than selling to new prospects. Upselling can account for as much as 30% of revenue. It means you can substantially increase conversions and sales by sticking to the shoestring budget. So why not use it?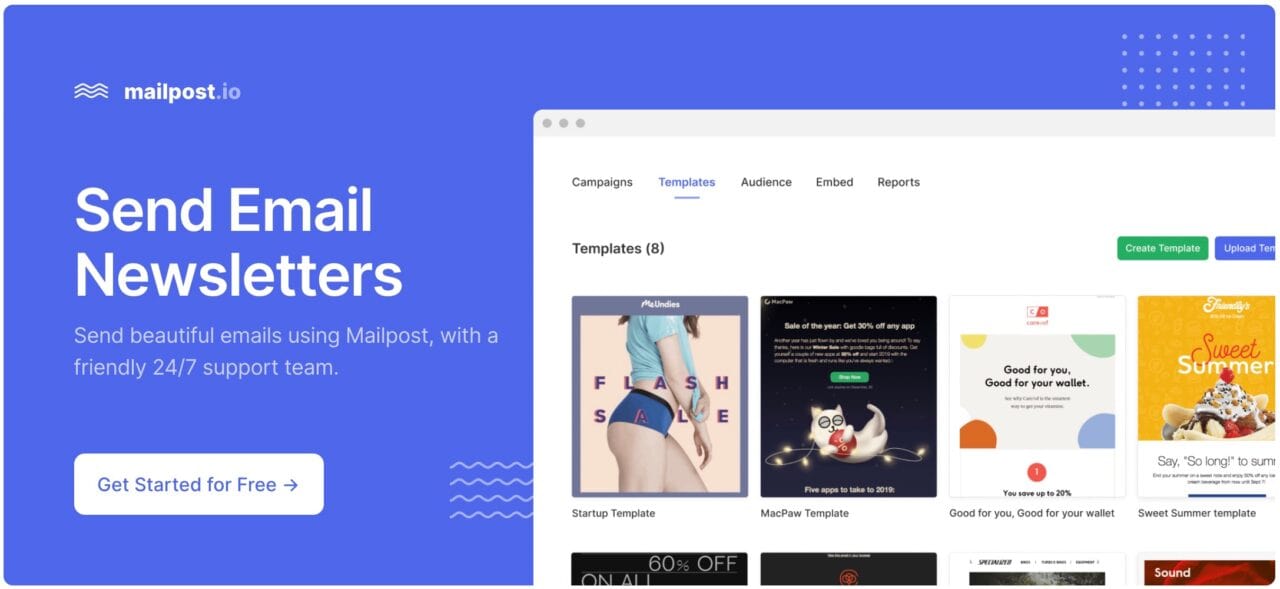 Let us walk through the upselling email technique to understand better how it can benefit your company, consider some good ways to make the most out of it, and of course, dive into real-life examples.
What is Upselling?
Upselling is a traditional sales technique. It aims to persuade customers to get a premium – and upgraded – version of the chosen product in the same selling interaction. It is an attempt to increase order value, maximize profit, and at the same time bring more benefits to the customer.
Although initially, people have a bad reaction to overt sales techniques, however when done right, they can be beneficial, improving the overall shopping experience for clients.
No-Code Email Template Builder
With Postcards you can create and edit email templates online without any coding skills! Includes more than 100 components to help you create custom emails templates faster than ever before.
Try Free
Other Products
Upselling works for several good reasons:
Although it suggests more expensive offers, but when done right, it focuses on helping your customer get more value and a better deal. Therefore, in some way, upselling is a customer happiness tactic.
It is much cheaper to work with existing customers since lead generation can be costly and time-consuming. According to recent studies, the probability of selling to existing customers is 60-70%, whereas the chance of selling to a new prospect is no more than 20%. The person who has bought something from you in the past is more likely to make another purchase, especially if you work on your brand's credibility very hard.
Making offers based on the personalized shopping experience and preferences turns regular customers into very profitable customers and increases customer lifetime value.
Providing extra value and showing eagerness to solve customer's problems ensures a happy customer experience. This is an effective way of making people come back and want something more.
The right upselling is mutually beneficial for both customers and entrepreneurs.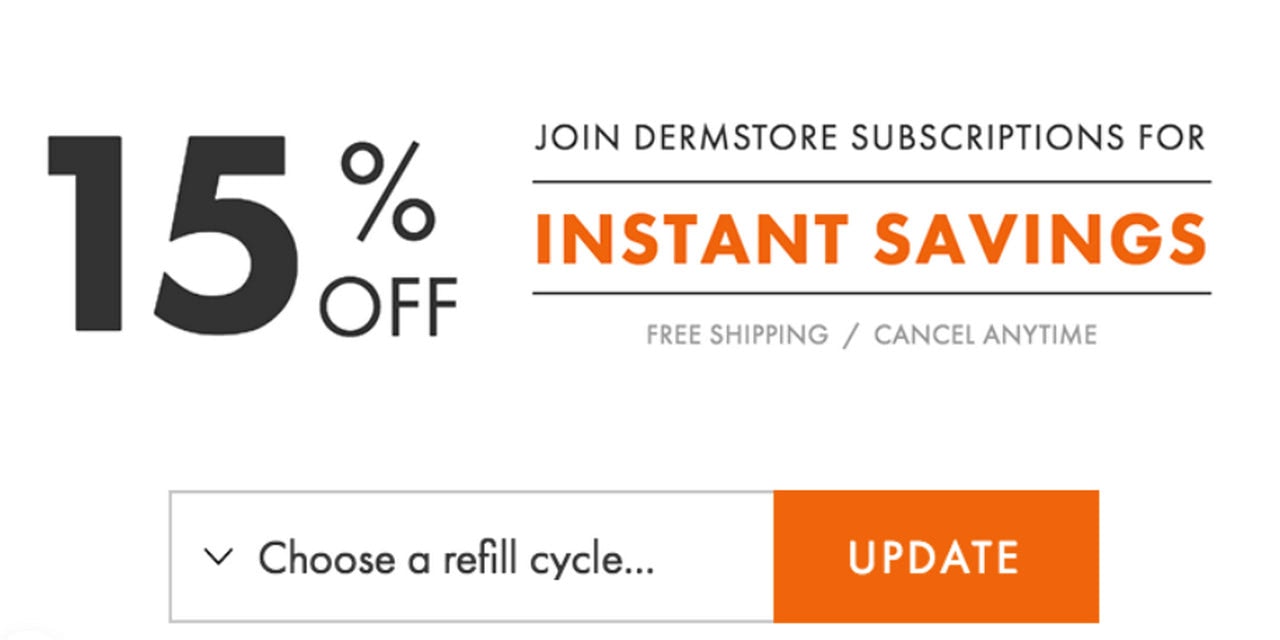 Add To Cart Subscription Upsell by Rafe Goldberg
4 Best Practices of Traditional Business Upselling You Can Steal
Before moving any further, it is crucial to understand the difference between upselling and cross-selling since people often confuse these terms.
In the e-commerce sector, both techniques boost revenue by increasing the amount a customer spends. While upselling promotes a more expensive version of the product, cross-selling touts a range of products based on the client's purchase history by recommending related complementary items. The differences between upselling and cross-selling in email marketing also have to do with what you suggest and when.
Sometimes they are used together to make a more substantial impact. However, if you focus only on one sales technique, aka upselling, you need to follow its best practices.
To start, consider four postulates that underline the best practices of traditional business upselling that you can steal for your email marketing strategy:
Good upselling is built around a value proposition to make the benefits of your products or services crystal clear from the outset.
Good upselling is about making your customers feel like they won by getting the best value for their money and solving their problems efficiently.
Good upselling is about a thorough understanding of customers' needs and making the shopping experience more personalized, effective, and enjoyable.
Good upselling is about rewarding customers for spending more money by offering them extra perks, for example, free shipping or extra discount on future purchases.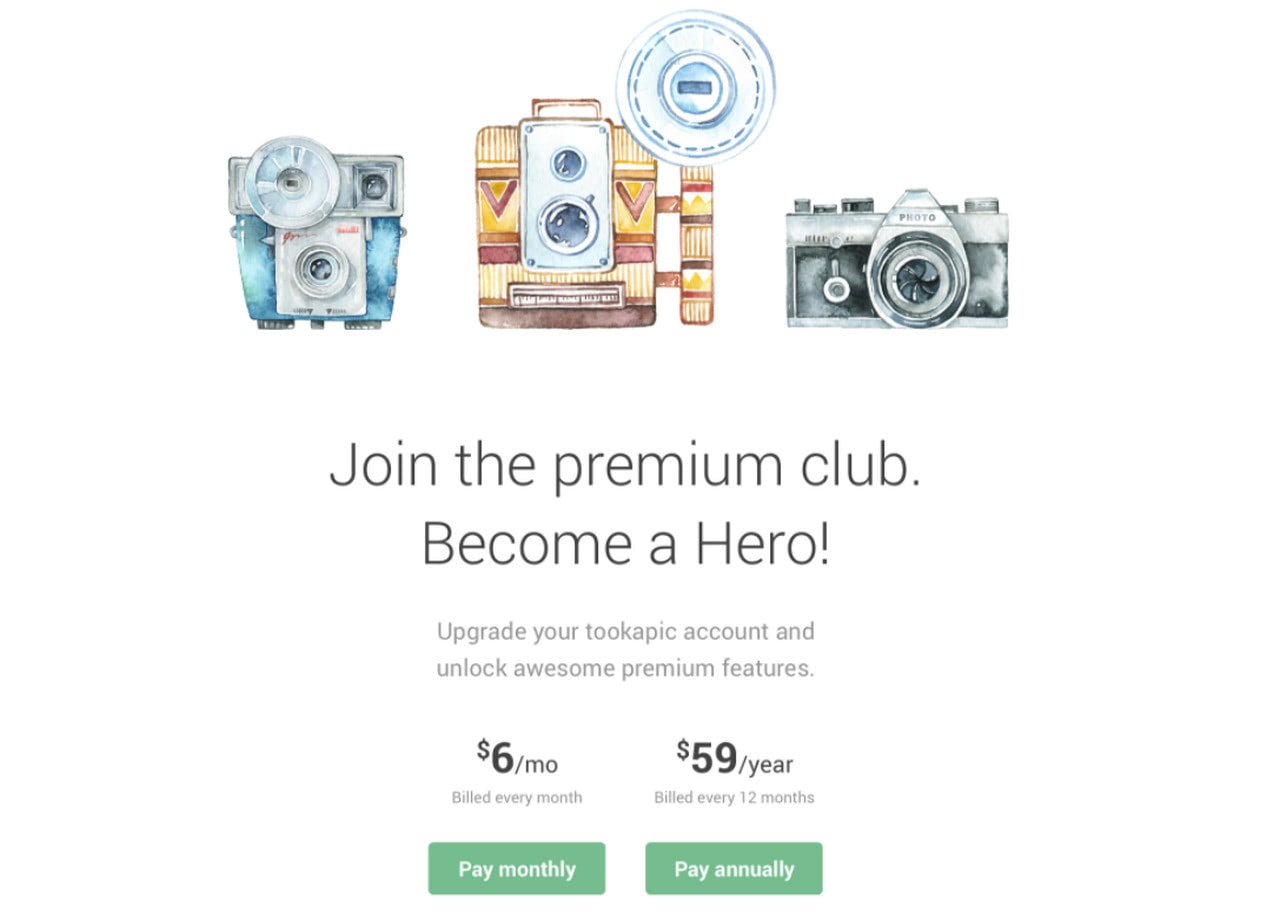 What is an Upselling Email?
Obviously, when it comes to email marketing, the upsell is realized through upselling emails.
Upselling email is a transactional newsletter used to sell additional goods or services to existing customers or trial users. It aims to escalate average order value, amplify overall revenue and increase customer lifetime value. It can be automatically triggered by events or sent manually.
Even though people do not like hard sales techniques, still when done right, upsell email can see through all obstacles, bring real value to the customer, and eventually benefit the company.
Creating the good upsell email requires you to follow the best practices in this niche and not confusing it with cross-selling, whatever similar these terms may be.
Before moving to the best practices and tips on creating a successful upselling email, it is important to define when and how to send upselling emails so that they prove to be effective.
When to Send Upselling Emails
As you learn more about your customers, their needs, and behavior patterns, you get an opportunity to benefit from upselling. By gathering information, we are more likely to provide on-spot recommendations. However, that is not enough to emerge victoriously. Perfect timing is a real deal-breaker in numerous email marketing campaigns, and upsell emails are no exception. It is crucial to define the best time when to send upselling emails.
So, when is it? The answer is tricky.
Traditional digital marketing implies realizing upselling tactic in three steps: before purchase (display recommendations at the bottom of the product page), during the purchase (display recommendations using pop-ups in the shopping cart or checkout page), and finally after purchase (send personalized follow-up emails).
We do not have such a luxury in email marketing. We cannot send emails with an upselling block before purchase since we do not know the product for sure, and we certainly should not interrupt the course of the customer's initial sale since we can scare the client away.
On top of that, you probably do not want to mention additional products in your thank you email, welcome email, and majority transactional emails.
So, when should we send upselling emails or use upsell techniques in a newsletter?
It is highly recommended to touch base between purchases to prompt upsells or when the user wants to finalize the purchase and wait for your must-have transactional email. So, ideally, send upsell emails when a person is already expecting to make a purchase or payment.
That is not all. You have some more opportunities to reach your contacts with upselling. For example, it may and certainly will come in handy in some retention emails like abandoned cart, confirmation emails, reminders, and follow-ups. On top of that, you can send upsell emails to not only existing customers but also trial users.
To sum up, the preferable time to send upselling emails are:
Right before the sale closes
At the end of a free trial
When a user is nearing account limitations
When a customer reaches a particular progress milestone or anniversary
When you launch a new product or a new version of an existing product
You can offer an upsell even after customers have completed their purchase by making the exclusive offer available for a limited time.

Upsell email from KiwiCo
How to Send Upsell Emails
Even if you have a short subscription list that you can manage single-handedly, you still need automation tools.
Automation lets you get the right message at the right time with a product recommendation based on a person's preferences. It allows amplifying effect and turning your warm leads into customers by effectively managing a sequence of upselling emails reinforced with follow-up emails.
Besides, the automation offers an opportunity to send the upsell email before the order is placed. It can be triggered as soon as a customer adds some items to their cart or re-visits some of the specific product pages, so you can get some extra opportunities to reach the customer.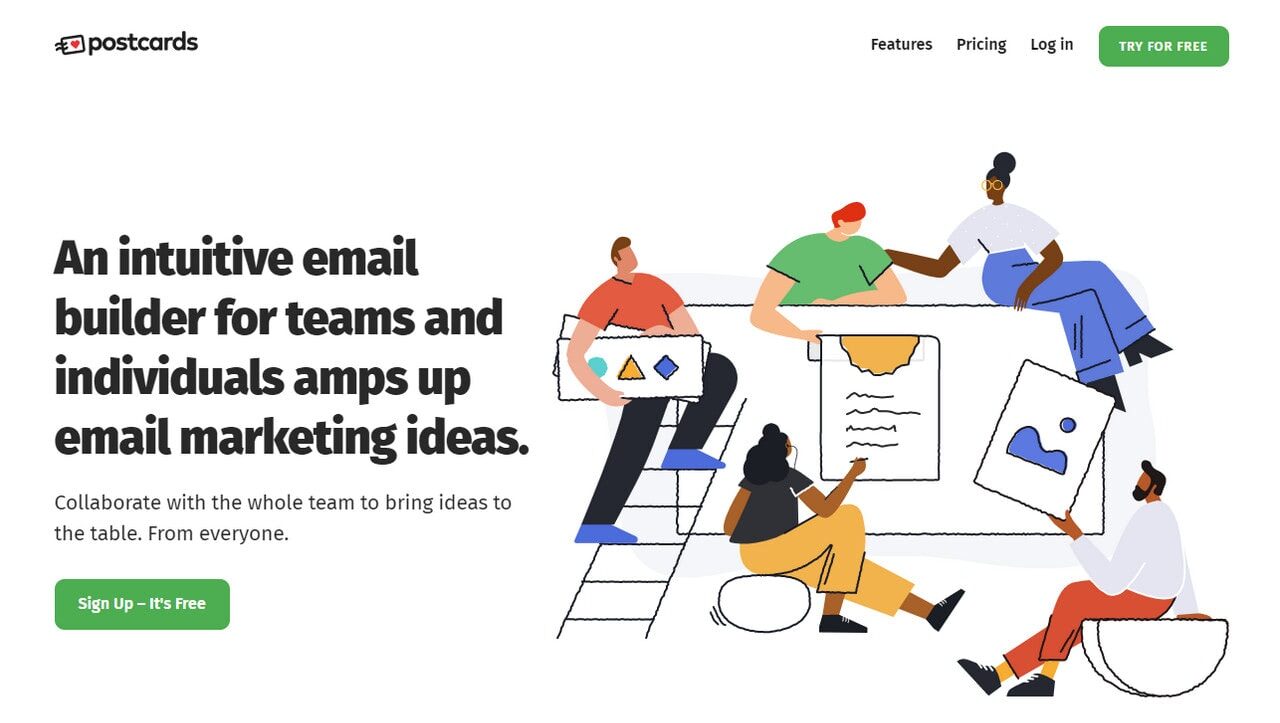 The great thing is automation tools are an integral part of many popular ESPs. They are just ready to be put in action. Pair them with Postcards, a professional HTML email template builder where everything can be done with dragging and dropping, and running successful upselling email campaigns will be a child's play.
Best Practices of Creating a Successful Upselling Email
Personalized user experience, the brand's credibility, and high-quality products are the bedrock for retaining customers. However, that is not enough to make the upsell do its magic. You still need to be persuasive. Follow these best practices to ensure your upsell email reaches its prime goal.
Choose the Right Upsell Tactic
Before moving to content and design, it is imperative to define the right upsell tactic since it underlies the entire strategy and gives you hints on what to use and include.
Much like any tool in traditional marketing, upselling comes in different types. The most popular are
The version upgrade. The version upgrade is not just a pure digital tactic. Many restaurants employ it when offering more significant portions or improved versions of dishes with some exclusive ingredients.
Product protection. As a rule, this tactic centers on extending the user's warranty to guard the product against something going wrong.
Product customization. The principle of this upsell is, the more you add, the more you pay, but the more you get benefits. It can be often seen in the automotive industry and SaaS.
Extended service period. You may offer better value for a longer contract or better deals for early renewals. Representatives of the SaaS niche use it quite often.
The bundle. Unlike the listed above tactics, this one benefits from upselling and cross-selling. Freelance artists, developers, and retail businesses employ it to the full extent.
Depending on your business or current goal, you may benefit from one or another model.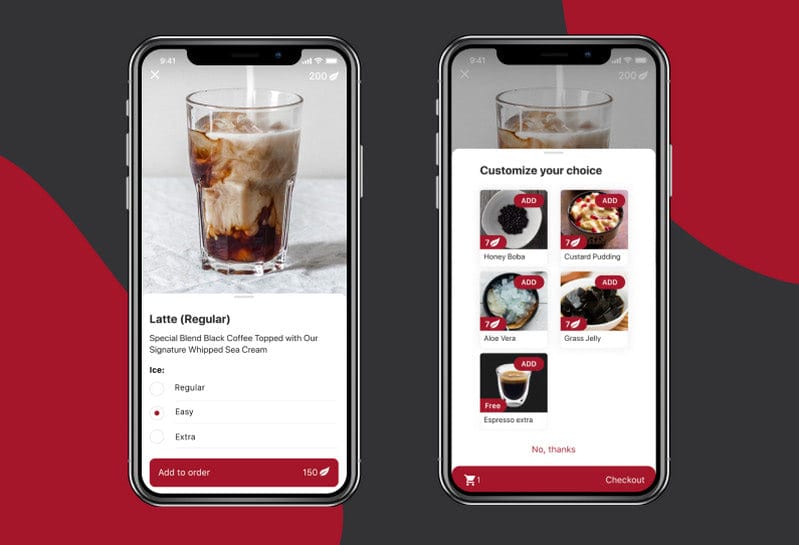 Upsell Concept by Maria Krutikova
Create a Subject Line that Ignites Interest
Unlike the subscription confirmation emails or abandoned cart emails that, as a rule, are limited in options, upselling emails give room to prove yourself and encourage your imagination to run wild.
However, do not get carried away. Your task is to create a pitch that catches the reader's eye and encourages high open rates. The perfect subject line for the upsell email should meet such criteria:
Be personal to appeal to the customer right away.
Be intriguing to kindle interest.
Be valuable to make customers open the letter.
Be short and sweet.
You can also add emojis, be playful by using humor, use psychological tricks like establishing a sense of urgency or exclusivity, and benefit from curiosity words like
Astonishing
Be the first
Become an insider
Exclusive
Extraordinary
Eye-opening
Hidden
Incredibly
Insider
Interesting
Invitation only
Key
Limited
Members only
Priceless
Private
Privy
Secret
Secrets
Shh!
Shocking
Sneak peek
Spoiler
Thought-provoking
Top secret
Unheard of
Unique
Unlock
Let us consider some good examples from real life to give you a hint on how to create the subject line that sees through all obstacles and ensures your upsell email reaches its audience.
Examples of subject lines for upselling emails:
[Person's name], Last Call. BOGO 50% Off
Write like a pro. Here's 20% off Grammarly Premium!
Add a book next month for FREE! Try a Deluxe subscription
Unlock the best of Medium with membership
Year-end offer: Buy 1 year, get 6 extra months
Never Pay For Delivery Again
As you can see, all the subject lines are different. Some feel like pitches from promo emails, while others have a vibe of traditional re-engagement emails.
Finally, to let the subject line do its job, you should ensure high deliverability and a good email sender reputation. Check out our Guide to Email Deliverability: Best Practices and Tools to Avoid Spam Folders to master this crucial aspect of email campaigns.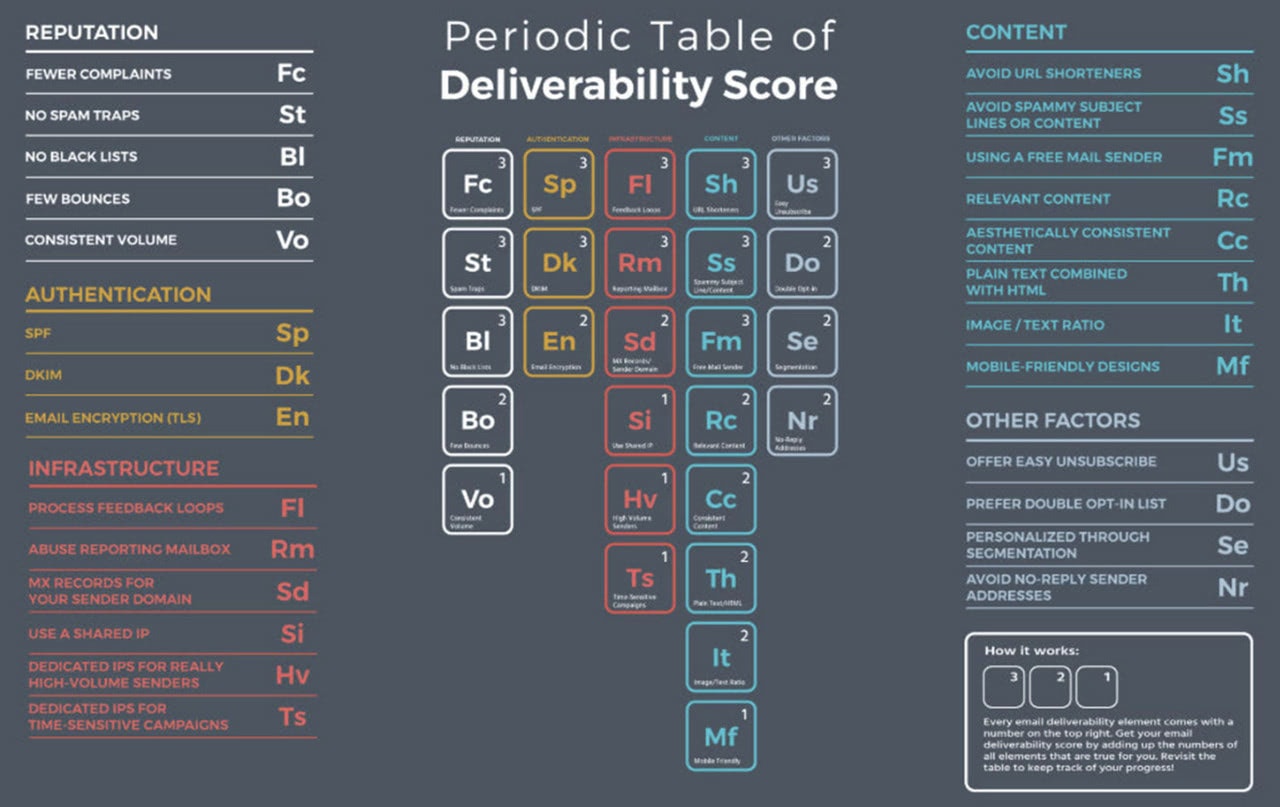 Periodic Table of Deliverability Score
7 Integral Components of a High-Converting Upselling Email
1. Powerful Personalized Greeting
Personalization stands behind every success in email marketing these days. While some types of campaigns may easily do with basic personalization like the use of the customer's name, when it comes to upselling, you need to pull out all the stops.
Personalization should be everywhere, starting with the subject line and ending with the offer. The greeting is no exception. Providing information based on that one person's preferences and purchase history makes a huge difference. Several reasons back up this practice.
It shows customers that your company recognizes them as valuable partners, not just faceless people in the crowd.
It makes the customers feel important. This sensation helps to build faith in the company and improve relationships.
It makes the email feel like you are not up to making a quick buck, but instead, you are up to meeting customers' needs and making their day with the best deal.
In practice, it can be an impressive headline, a short intro, or a letter from the CEO that features the customer's name and some personal information.
2. Personalized Recommendations
The right upselling email is all about bringing value and help the customer to strike a better deal. Your task is to suggest an upgraded version and unobtrusively direct your users to this decision. Center your newsletter around the person and how your premium or upgraded product may help them to succeed.
Your suggestion has to fit the customer's exact needs at the very moment. Actively listen to their needs and desires. Analyze their behavior on the website and purchase history. Determine how the upgraded version or premium features of your product could help them. Choose upsell that makes sense for your customer.
More so, let them know your recommendation has something to do with their preferences or previous actions—anchor what you are suggesting to what they have done before. In a word, make the recommendation personalized. This way, you tug users' heartstrings by offering them something unique and valuable, fostering good feelings since they may get a better deal, and establishing your expertise, proving to be a trusted advisor.
In practice, this tactic is realized through the block of benefits relevant to the person, not a brand. Sometimes entrepreneurs compare and contrast what can be accomplished with the current solution versus the upsell. In addition, they use case studies, testimonials, positive customer reviews, or other social proof to back up recommendations.
The latter can be easily done with the help of Postcards. It has eight different styles for features block and a dozen of styles for showing testimonials or reviews. Each module looks neat, clean, and sleek, working great across devices, browsers, and email readers.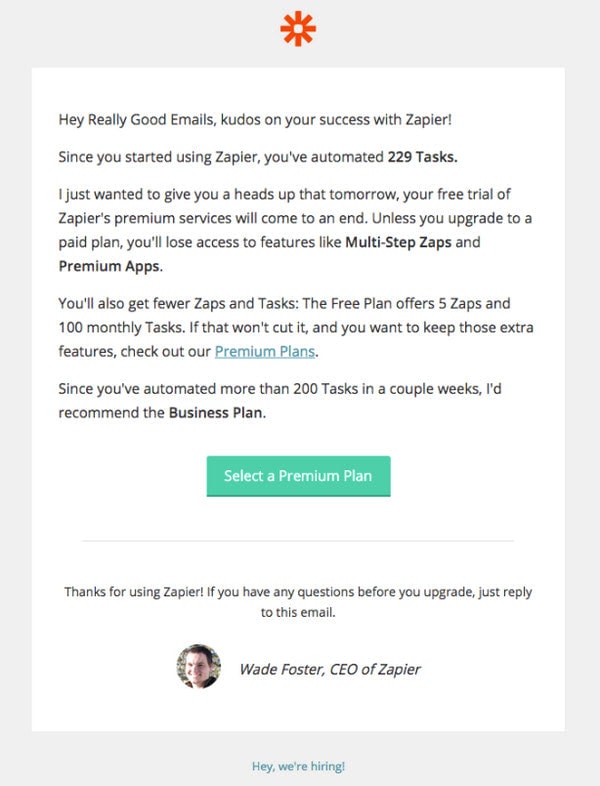 Upselling email from Zapier
3. Personalized Offer
A personalized offer is an optional element of the high-converting upselling email. However, as practice shows, it exponentially increases your chance of winning over the client and persuading him or her to upgrade.
Sometimes you need something more powerful than just a recommendation; you need a persuasion tool.
To make your case more convincing, you can offer a discount or go for a classic shopping incentive like free shipping. When the offer fits the customer's budget and feels like an exclusive deal, it always works wonders.
Always remember to be transparent about pricing, conditions, and other crucial details concerning this special offer.
4. Unsubscribe Option and Contact Information
Providing an opt-out option and contact information is no just a whim. It is obligatory. If you want to make the newsletter compliant with national regulations and worldwide regulations and avoid fines, it should have these elements.
On top of that, they can bring some extra benefits to your brand. For example, unsubscribe option as well as contact information promote your brand as a trustworthy partner. The more open, honest, and transparent your brand is, the more likely the customers will stick around and become brand evangelists.
Remember, people love freedom. Your email should be without any strings attached. Even if users want to leave you, they can always come back. Therefore, make sure you provide an easy way to get out, leave the door open and establish yourself as a brand that respects customer's decisions. This is especially true when it comes to sales techniques like upsell.
5. Juicy Design
Choosing the right upsell tactic, along with coming up with a proper greeting and offer, is not enough to persuade your clients. To demonstrate the value the upgraded product would add for your customer, you need a proper design.
Upselling emails are rarely made as classic plain text emails. The deal is, you need to make an impression with your recommendations. People eat with their eyes. Therefore, plain text email will not work in this case. It is here where you can use all the powers hidden in rich HTML email templates. CSS, along with visuals and interactive features like hot spots or animated gifs, gives you a chance to make a statement, produce a good impression, and demonstrate the value of an upgraded product attractively.
Consider these best practices for email designs that may help you in this matter:
Use a big and bold headline.
Create an impressive hero area. If you have a personalized offer, it is the perfect place to show it.
Use visuals and graphics to support the recommendations.
Add a prominent call-to-action button.
Format the content.
Add brand identity elements.
Add animated gifs and interactive features.
Use AMP.
Make newsletter responsive and mobile-friendly.
If these best practices feel a bit intimidating to pull off on your own, you can always use Postcards. It is a professional HTML email template builder where you can focus on your idea rather than production. It comes with numerous features such as 100 field-tested modules, a handy customization panel, template version, and easy integration with popular ESPs.

Upsell email from Grammarly
6. Psychological Tricks
Persuasion in digital marketing, much like in e-commerce, requires you to be a little bit canny, artful and crafty. So some psychological tricks should be involved. As a rule, the sales team sticks to these four time-proven tactics:
Create a sense of urgency. Remind contacts that the offer will be available for a limited time only.
Create fear of missing out on an opportunity to get a better deal. Communicate real-time updates on your stock. Notify your users that "only three items are left" or "they sell fast," or just tell users that such offers are unique and come once a year.
Create a sense of exclusivity, making people feel important.
Educate customers on the risks or missed opportunities of not taking advantage of the offer.
Along with these psychological tricks, entrepreneurs use design tricks to strengthen the overall effect and employ language based on power words.
Power words are words that trigger a psychological or emotional response. Not only do they help to pull off psychological tricks, but they also make something sound more valuable. The most popular and workable options are:
Bargain
Best
Bonus
Cheap
Deadline
Discount
Do not miss out
Exclusive
Extra
Gift
Giveaway
Last chance
Limited
Luxurious
Reduced
Running out
Sale ends soon
Save
Savings
Ultimate
Value
While they last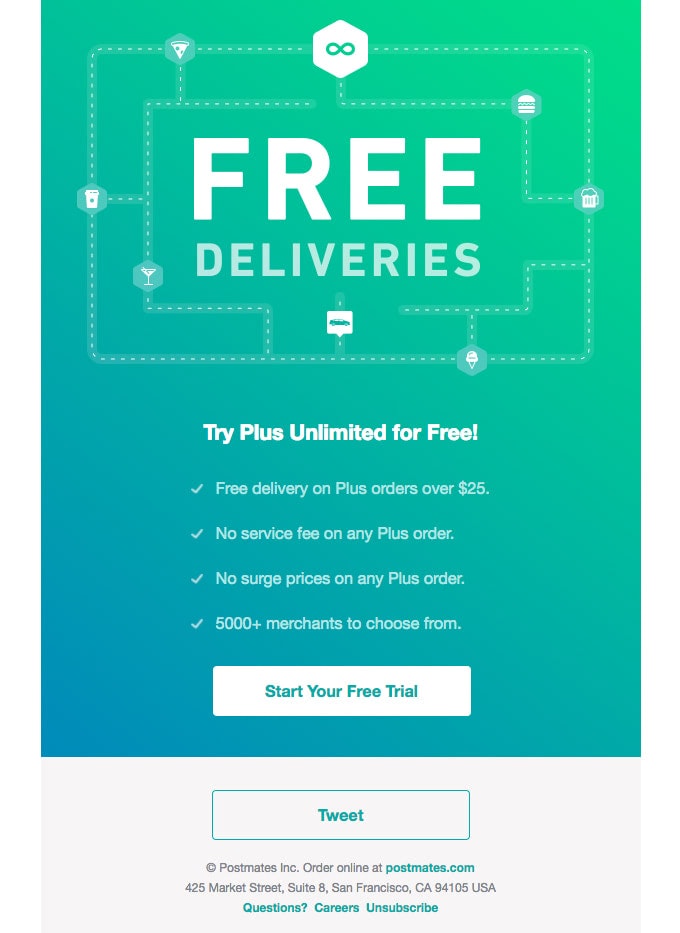 Upselling email from Postmates
7. Thank You Note
The rule of every successful email marketing is: be grateful. This is especially true for situations when your customers spent more than expected, and your upselling email campaign proved to be successful. It also means that they trust your consultative guidance and are open to suggestions that may help you in future campaigns. Therefore, it is time to reward customers for their loyalty.
How to do this? Simple. Send a Thank You Email.
You can go for a short and sweet version that includes your sincere gratitude or CEO letter, or you can go for a big and impressive promo-inspired design that features a gift or unique discount code for a future purchase. Suppose you want to produce even more impact. In that case, you can always send one of those customer appreciation emails that cement your company's overall good impression and take your relationships with the clients to the next level.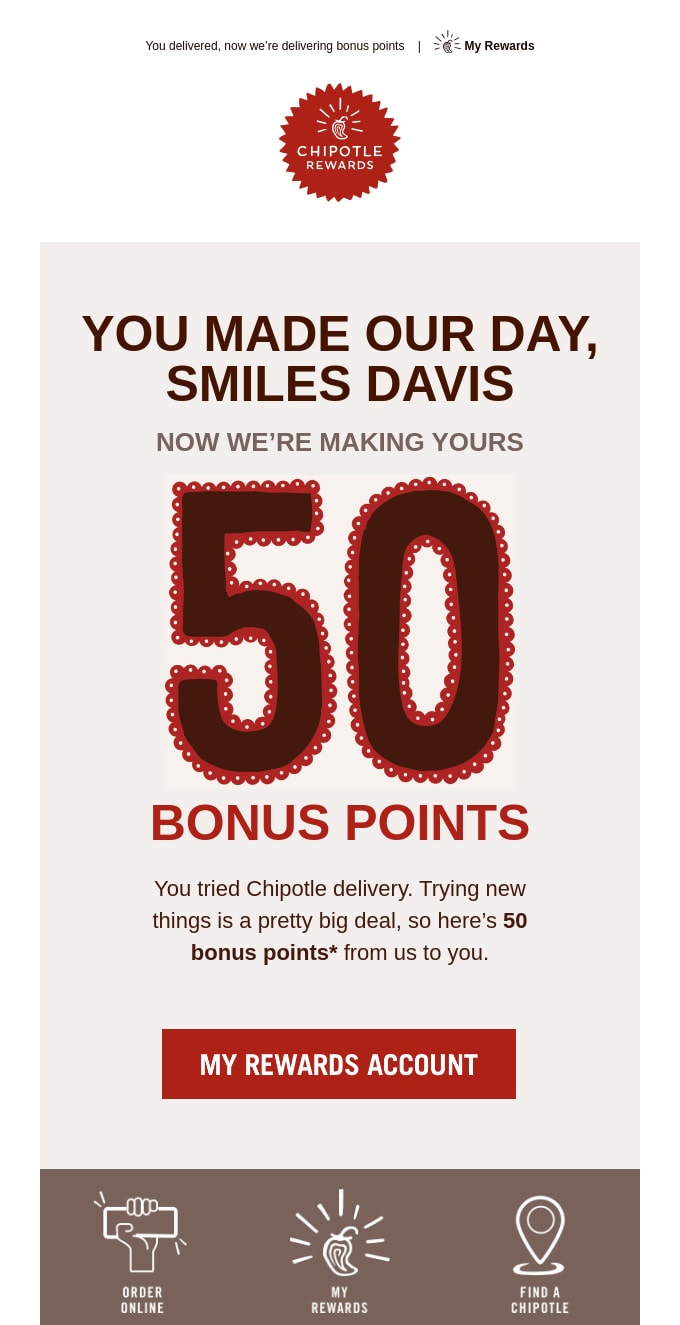 Thank You email from Chipotle
General Advice on Creating High-Converting Upselling Emails
You should know some useful tips and general advice that help upsell email achieve success along with the best practices.
Decide which segment of your customer base would benefit the most from upsell. Start with your most active customers and work your way towards the tough crowd.
Ensure the upselling product is within the customer's budget and reasonable price range since, according to stats, customers will rarely pay more than 25% of what they planned to spend.
Use side-by-side comparisons to demonstrate the value of the more expensive version of the product. Sell the benefits of the upsell, and educate customers to show why it is important. You can also use reverse psychology and list the risks of not buying the recommended product.
Display available alternatives but allow your customers enough space to make up their minds on their own. Use the rule of three. The studies show that when there are three price levels, people often go for the middle one. An upsell will work more effectively if there are three options available. No more, no less. And remember to make these options suit your customers' pockets.
Suggest upgraded products only if they genuinely add value to the purchase.
Be specific in your recommendations.
Do not be pushy.
Use the right language to communicate the importance of choosing the upgraded version of the product.
Show how much money potentially your users can save by opting in favor of premium versions.
Do not send an upsell email when someone needs to upgrade now or face an interruption. Give users a heads up. Send it beforehand, providing users with a comfortable amount of time to decide.
Remind them how great it is to be a customer. Highlight how much value they have gotten from your products so far. Use customer appreciation techniques to tug users' heartstrings.
Celebrate their choice and at the same time highlight what they are missing.
Ensure the value of the upsell is clear to your customer.
Think about the steps a person should take to complete the upsell. Make this process simple, seamless, and comfortable. Remove all roadblocks on your user's path to upgrade or choose the premium version. Add a direct link. Make CTA prominent.
Offer your upsell everywhere it makes sense.
Do A/B tests and try different options until you find what works the best.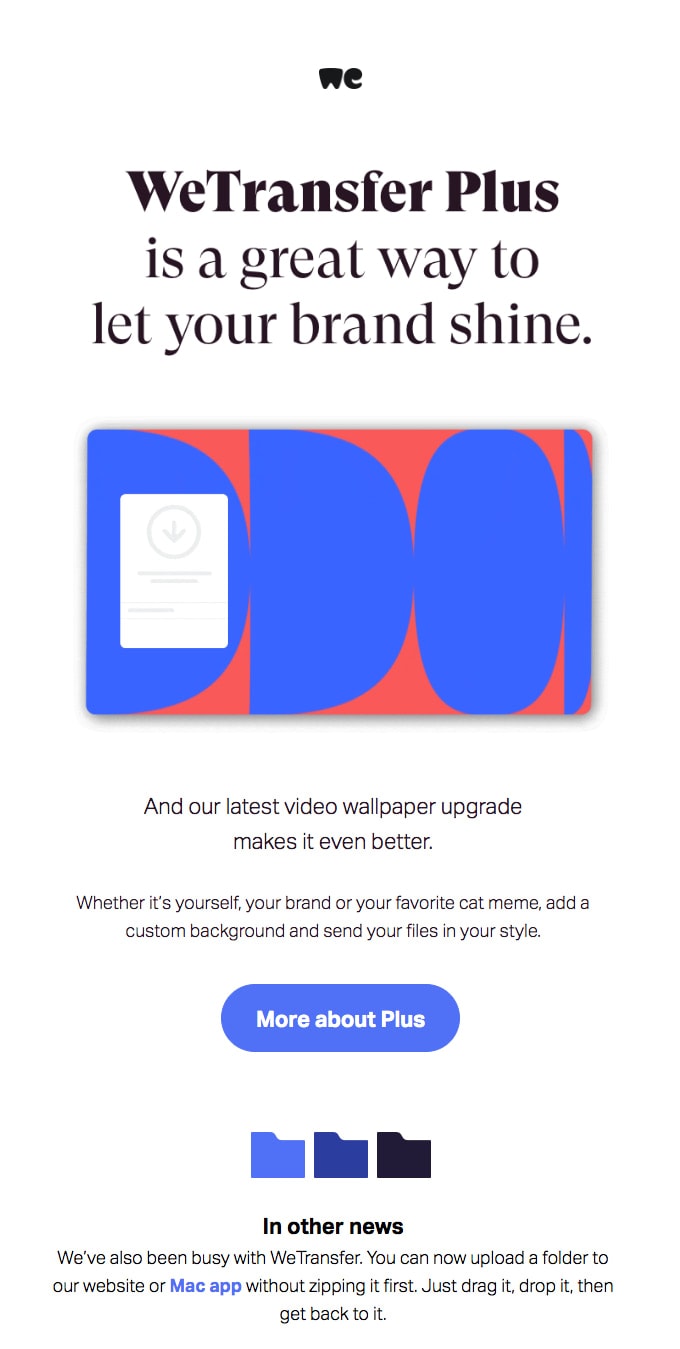 Upselling email from WeTransfer
High-Converting Upselling Email Examples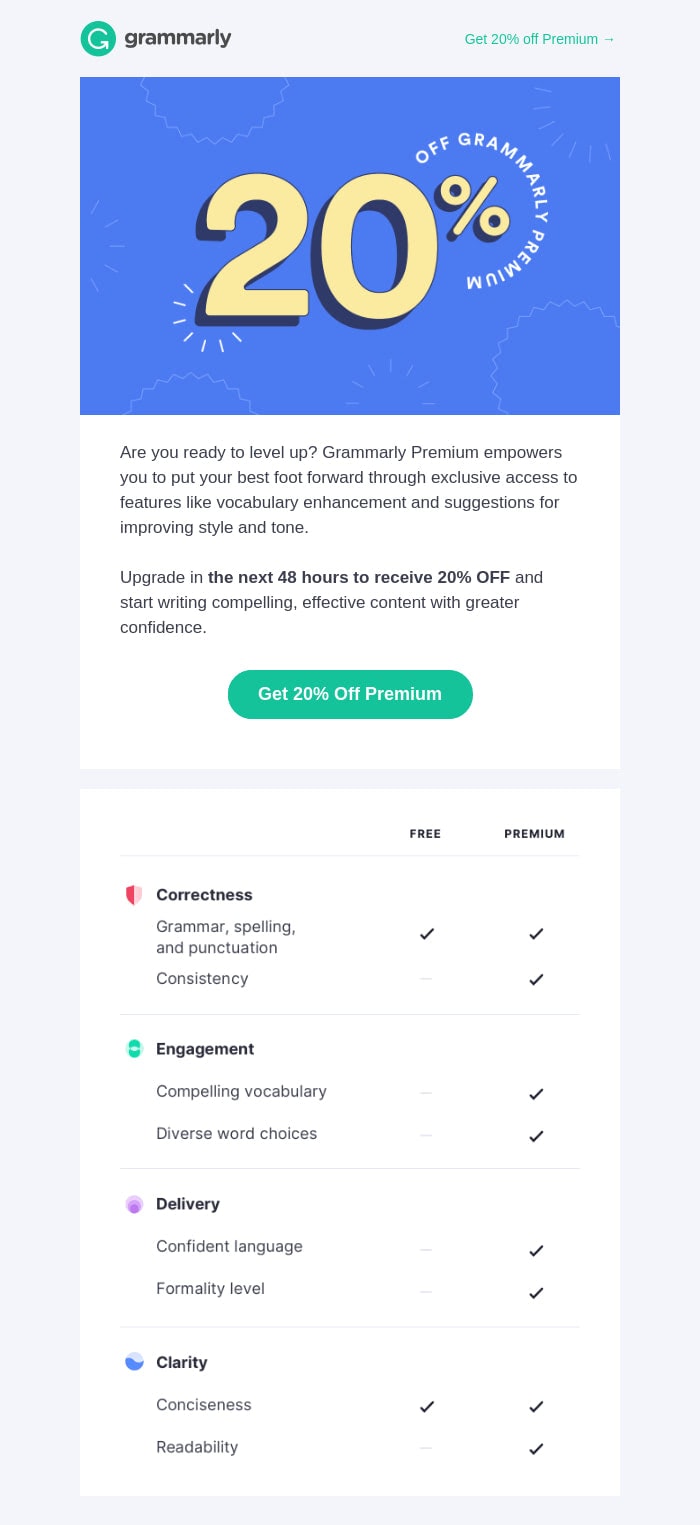 Upselling Email Example from Grammarly
Grammarly boasts a truly professional email marketing team since their newsletters are always made with the best practices in mind. They are responsive, mobile-friendly, accessible, impressive, and high converting.
This upselling giveaway email example is vivid proof. Along with meeting all the requirements of a good digital newsletter, it builds a strong case around its premium product.
What has the team done?
First, they have created an impressive and persuasive hero area. A discount of 20% off sweetens the deal.
Second, they use the inverted pyramid for content. The latter emphasizes the offer and strengthens the call-to-action, guiding users to the critical details in a non-intrusive way.
Third, they have added a table to compare and contrast free and premium versions to educate the users about the value and benefits hidden in the upgrade.
Finally, they have included all the necessary information such as links to unsubscribe page, "Manage preferences" page, web version, and contacts to show users that they respect their freedom and final decisions.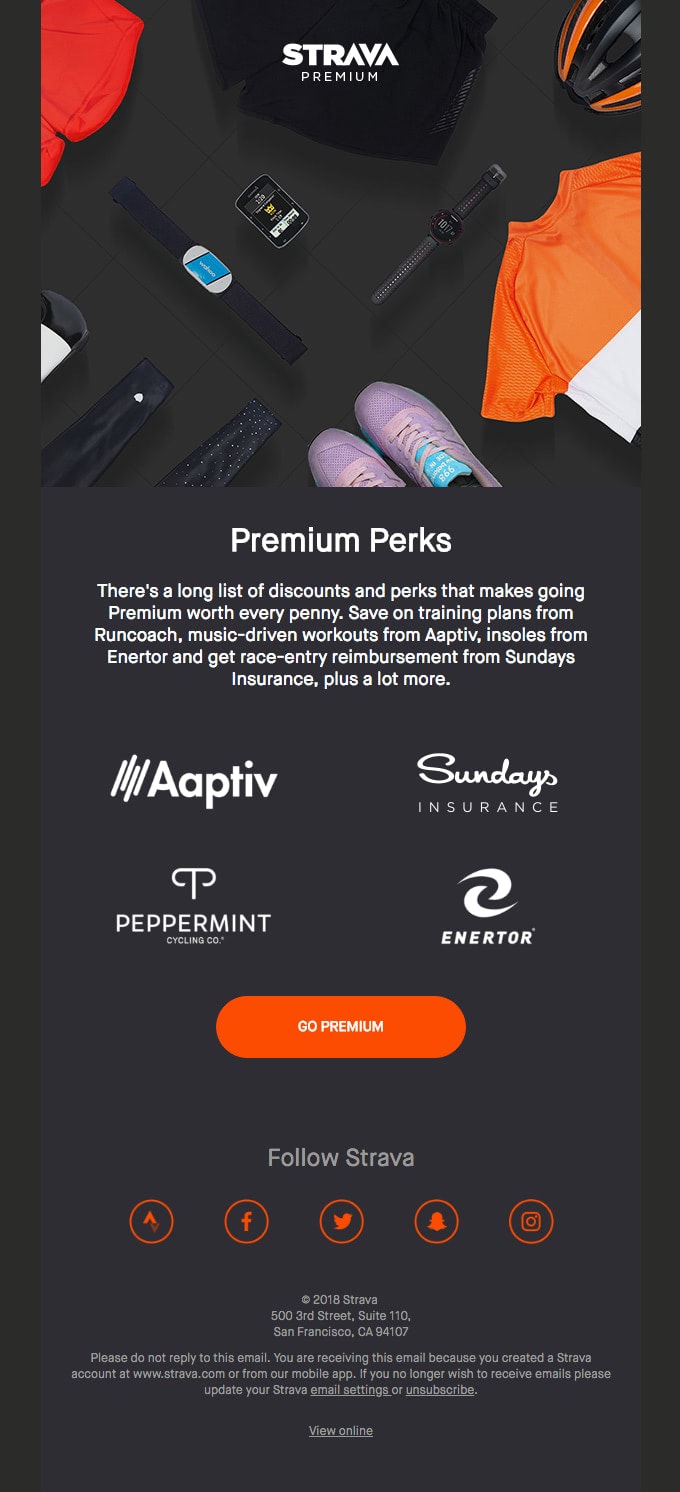 Upselling Email Example from Strava
With this outstanding upselling email example, the company is primed to get the most from the strategy.
The newsletter is compact, but it works since it includes the essentials and shows customers how they can benefit from the upgrade. Let us peek inside to see what the team has included. The email design features some time-proven effective solutions:
An image-based hero area where the products shine
Small yet straight-to-the-point section with premium perks
Block with popular brands that qualifies the company and raises its value
Prominent call-to-action with power words
Additional, helpful elements such as social media icons and contact information

Upselling Email Example from Medium
As we all know, context is essential for creating successful upsell emails and setting high conversions. The team behind Medium, which is the most prominent online publishing platform, knows a thing or two about the importance of good reading. This upselling email is an example of where content plays a crucial role in winning over clients and compelling them to upgrade.
The email is packed with information. There is an offer to upgrade to the premium version that includes pricing details, thank you note, a block with excerpts from exclusive stories, and a section with exclusive features. The latter two are up to igniting interest and proving customers that they can find something truly inspiring inside the platform.
To sum up, if you like to read, then this upsell email is certainly for you.
At the bottom, you will find a call-to-action button with a friendly appeal. This block makes a strong finishing point that compels customers to proceed with the brand and reconsider the current subscription plan.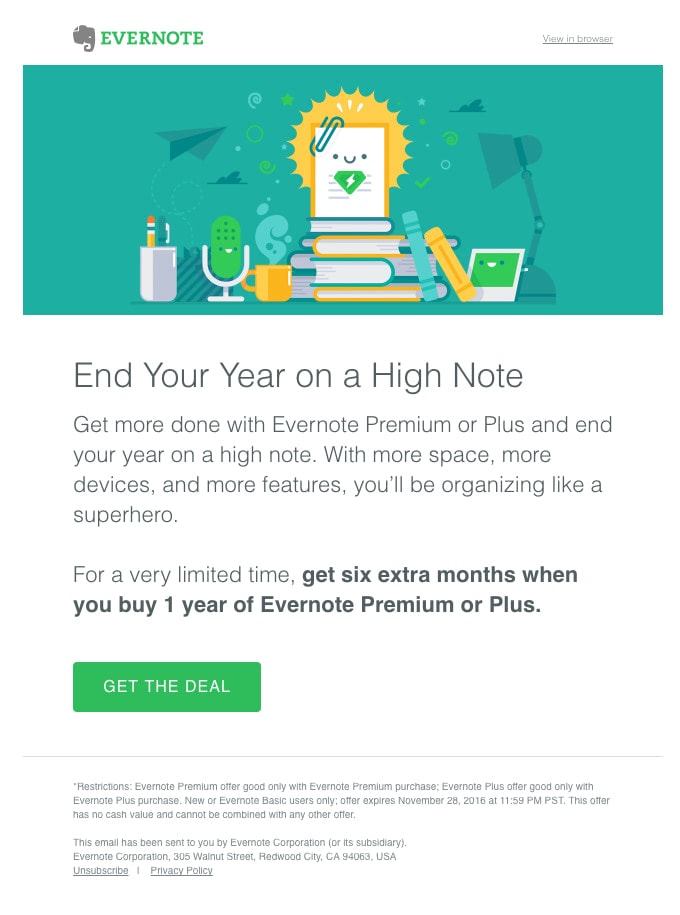 Upselling Email Example from Evernote
Evernote has come up with an upsell email that proves you can use simple design solutions to win over clients.
Before moving to the newsletter itself, it is important to note that Evernote uses a powerful subject line that guarantees high open rates. It combines a fantastic offer and a sense of urgency, looking irresistible.
So, what is this upsell email design made of?
It is a one-screen newsletter where all the information is placed on the top.
It is compact and capsule, but with all that, it is sweet and straight-to-the-point.
It uses a traditional layout where an inverted pyramid does its magic.
It capitalizes on time-proven solutions:

An illustration-based hero area feels friendly and creates a positive atmosphere.
A bold headline makes the statement.
A well-formatted block with text promotes the premium version.
An offer is skillfully highlighted.
A call-to-action button finishes off the entire composition.
The upsell email example from Evernote is pretty compact and straightforward, but it has a character and brings value to the customer in a friendly manner.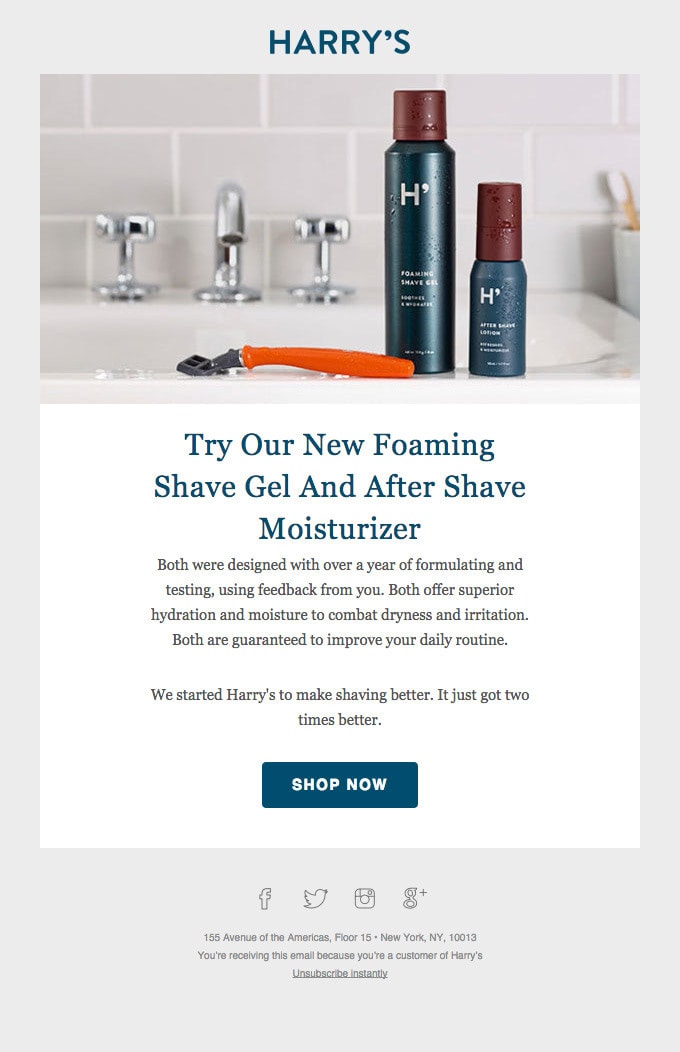 Upselling Email Example from Harry's
Harry's goes for one of the most traditional upselling email examples in the e-commerce sector. It features a new product that is much better than the previous one. At some point, this email is a combination of upsell techniques and promotional techniques that help generate traffic to the product page and compel as many users as possible to try the new version.
Again, we can see the same layout as in the previous example. However, this time the hero area focuses on the star of the show making the newsletter feel more businesslike rather than friendly. However, this approach works great with the target market.
As for the structure, there is a block with a promo, a big and bold headline, and a call-to-action button. There are no offers and a list of benefits. Therefore, the email feels a little bit like an invite that breaks the ice. It warms up the audience and underlies a solid foundation for other sales tactics.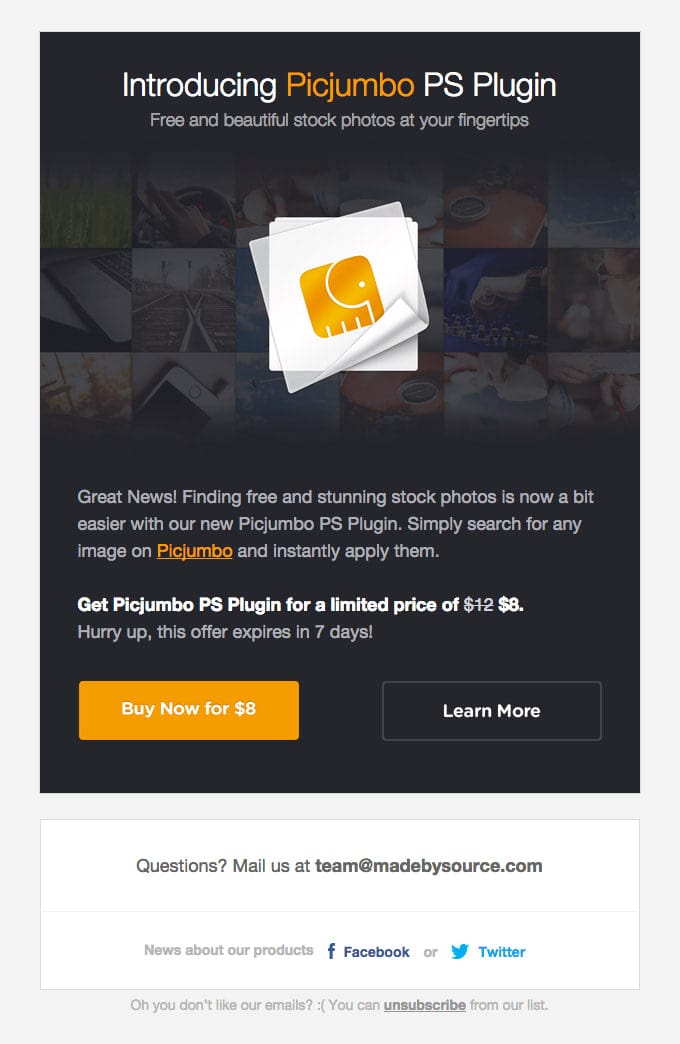 Upsell Email Example from Made by Source
The most common upsell emails are product launch emails. If your customers are loyal and appreciate your products, chances are they will be excited to try what you come up with. High-level of satisfaction from your brand and positive reviews from products work wonders with persuasion. Therefore, if you are confident in your products and client's loyalty, send upsell emails on product launch, and you will emerge victoriously.
Let us consider the product launch newsletter – one of the typical upsell email examples.
It is short and to the point. The team directs customer attention toward a problem that the new product may solve more efficiently than the old one. To compel users to try it, they have also included a small discount and established a sense of urgency with the time-limited offer, which plants the idea in the user's mind that they need to upgrade soon.
Note there are two buttons. The first is a call to action. It is prominent, bold, and pretty irresistible due to a sweet offer featured inside. The second is the standard "learn more" button. This solution helps to cover a large crowd within one email and generate as much traffic as possible.
There is a well-thought-out footer. It includes contact information and an email address to connect with the support team and send questions about the product. This way, the company shows their concern about the clients' happiness, attempting to solve any issues.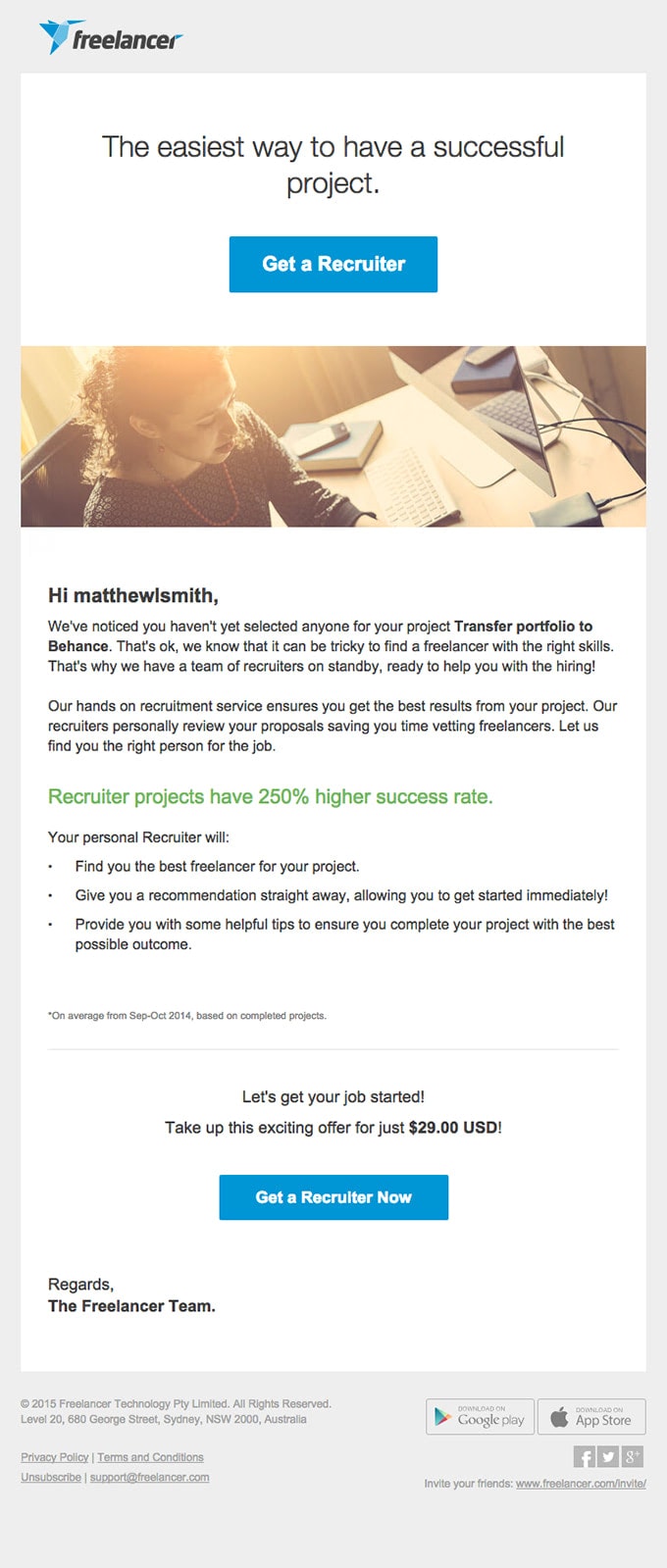 Upselling Email Example from Freelancer
The central theme of this upsell email example is that not having a premium service held clients back. More so, it looks like more of a business model than a marketing tactic using sophisticated ways to onboard users to a premium service.
Personalization is the main driving force of this newsletter. Just look at the message. It feels incredibly personal. The team certainly speaks to Mathew and no one else. By personalizing the email, the team certainly, sees an increase in conversions.
What is clever is that the benefits of using recruiters are featured as an easily digestible list accompanied by the sweet offer and perfectly placed call-to-action. The final part of email design is undoubtedly powerful and persuasive. Even if the customer does not convert, an email will still leave a good last impression that may get them back.
Conclusion
Upselling is an essential sales growth tactic. According to stats, it can drive between 10-30% of revenue and work 20 times better than another traditional marketing technique, cross-selling.
The deal is when you focus primarily on your customer's experience and goals and try to bring value instead of luring money, upselling email work wonders. It benefits both you and your customers tremendously.
To nail it, bear in mind such important things:
Prioritize user's needs.
Bring value.
Personalize the content, design, and offer.
Do not be pushy.
Send it whenever you can.
The right upselling email, according to Dan S. Kennedy, a multi-millionaire entrepreneur who is world-leading marketing and business strategist, is about generating a customer, not a sale. It is about prolonging customer satisfaction with your brand and increasing customer lifetime value. Therefore, play fair, avoid hard sales, and bring value to the customer.
Like what you're reading? Subscribe to our top stories.