Free HTML Email Newsletter Templates
Email marketing is everywhere. Even if you have a website that represents a small local business, chances are that you have a list of your loyal subscribers to inform about happenings in your company. Create email newsletters is very simple and effective. Choose the right email newsletter templates and customize them. You can use our email newsletter tool to customize newsletter templates. Holidays, events, festivals, and more—we have email templates for every occasion of yours.
There are different approaches to generate leads. Some methods are time-tested; others are experimental. Some are an immediate success; others are an eventual failure. Among all possible solutions, email campaigns have proved quite beneficial.
Note: Check out best email newsletter template builder – Postcards. Try it for free!
Strategies for email campaigns vary, but the email newsletter lies at the heart of each. It is a sort of a decider: whether your readers will be back or ditch you and your company. But make sure that every email newsletter looks pleasing and is unobtrusive.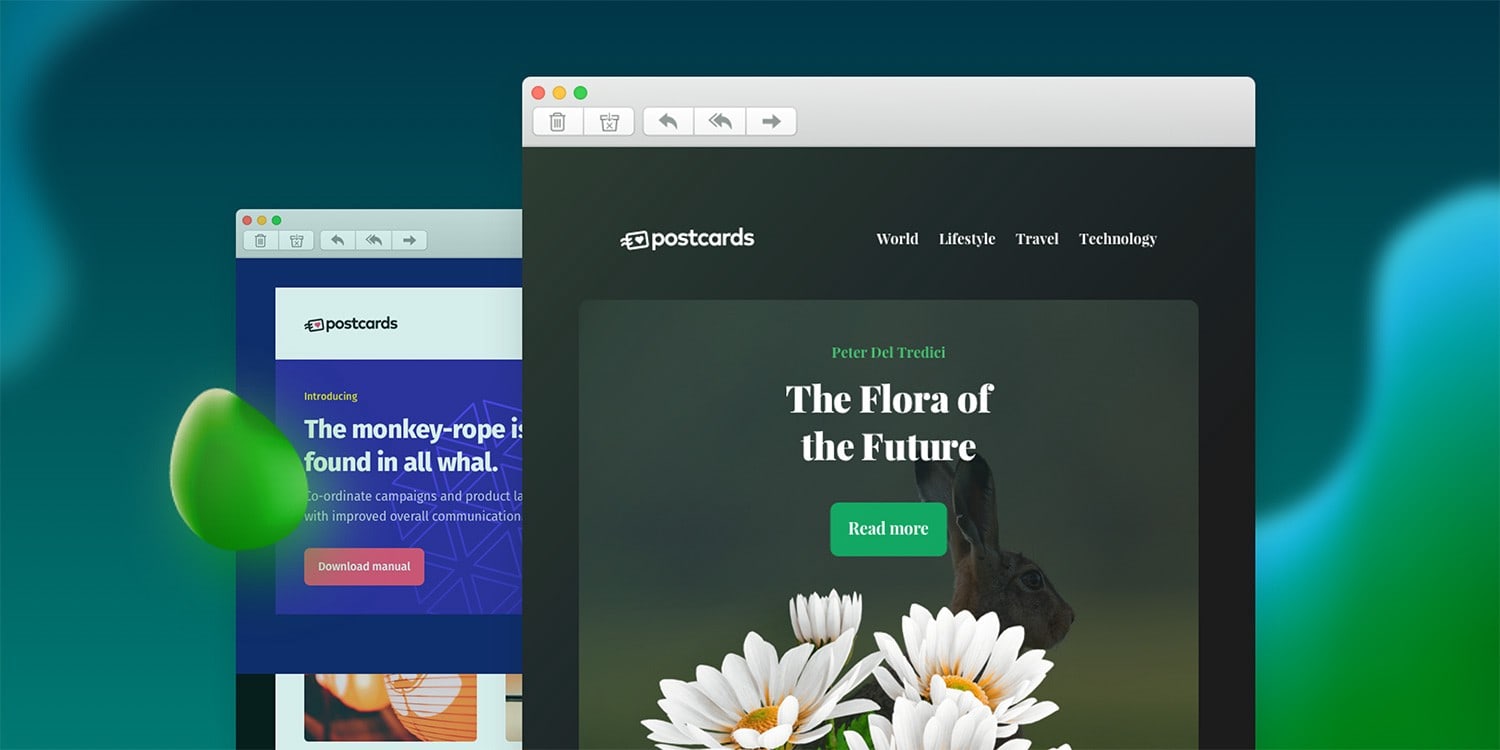 Using Postcards, you can create beautiful emails newsletters templates in minutes with drag and drop features and ready-made modules.
Generated and exported emails are optimized for most popular email service providers and email clients (desktop and browsers).
Online Email Template Builder
With Postcards you can create and edit email templates online without any coding skills! Includes more than 100 components to help you create custom emails templates faster than ever before.
Try Free
Other Products
Take a look at Victor's email newsletter template, Valentine's Day email and templates by Mjml as examples.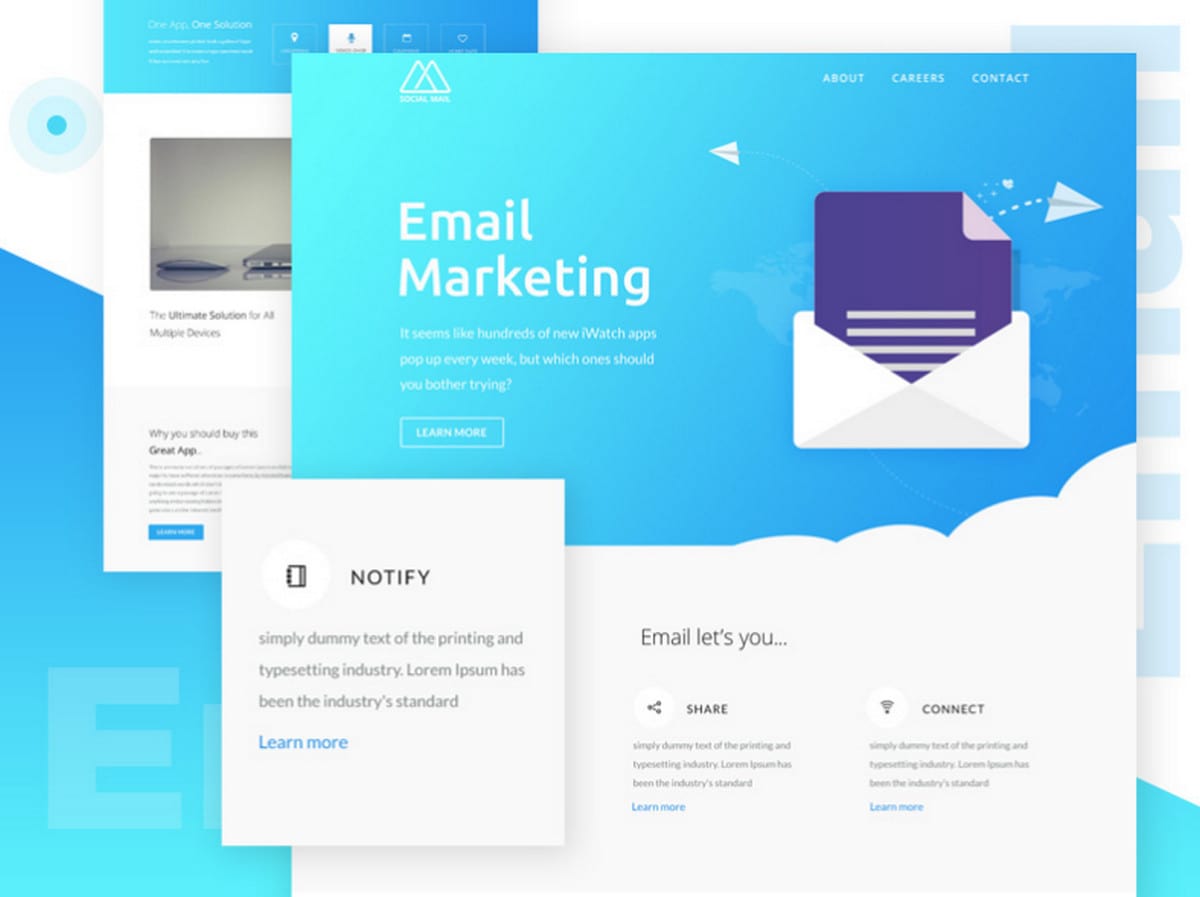 These three freebies represent different categories, yet they have one thing in common – they skillfully balance design and information, feeling professional.
The first is an outstanding PSD template. It has a marvelous businesslike atmosphere and gorgeous coloring. The second is an HTML email newsletter template with a lovely festive mood. Although it is made with Valentine's Day in mind, it can be easily adapted for other campaigns.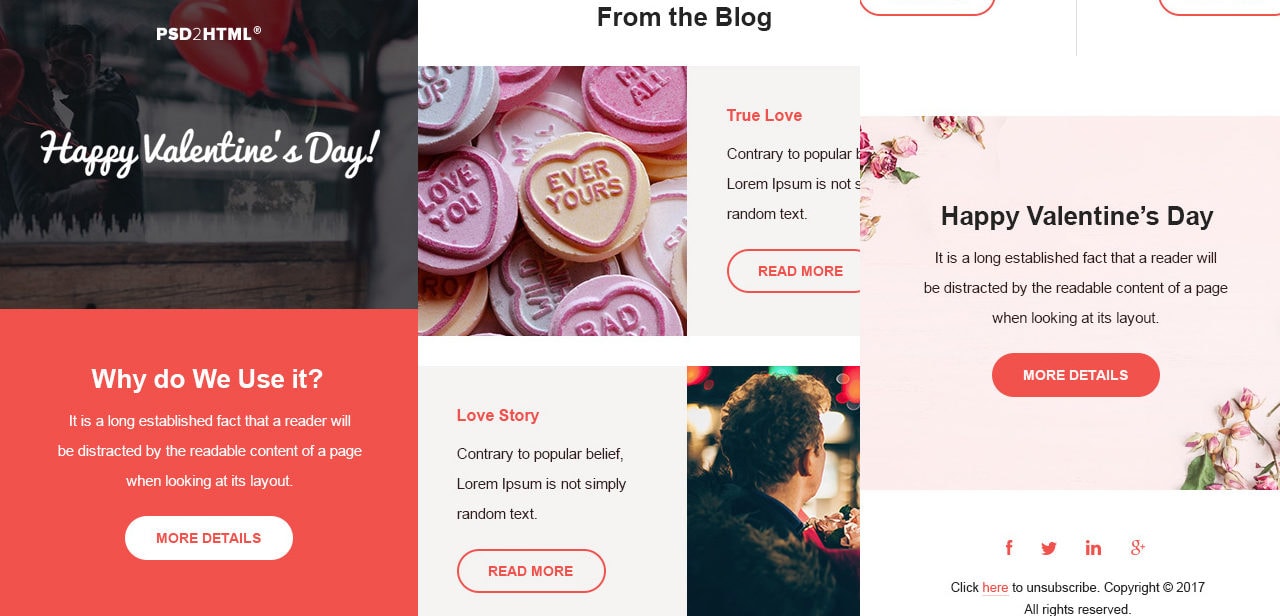 Much like the freebie by PSD2HTML, the templates by Mjml are HTML-based. They are responsive, so you can quickly customize them by inserting content, changing colors or, if necessary, altering the design.

Another thing that unites these templates is that they do not look like regular email newsletters; they look like micro websites or digital flyers with buttons to click. Let's compare them to Really simple responsive email templates, Accessible Emails, and Simple Responsive Email. The freebies by Lee Munroe, Jason Rodriguez, and Derek Punsalan are perfect solutions for simplicity aficionados. They convey the required information unobtrusively and pleasantly looking on desktop monitors and mobile devices. But regarding the design, they are insipid and primitive. The previous trio certainly looks more attractive.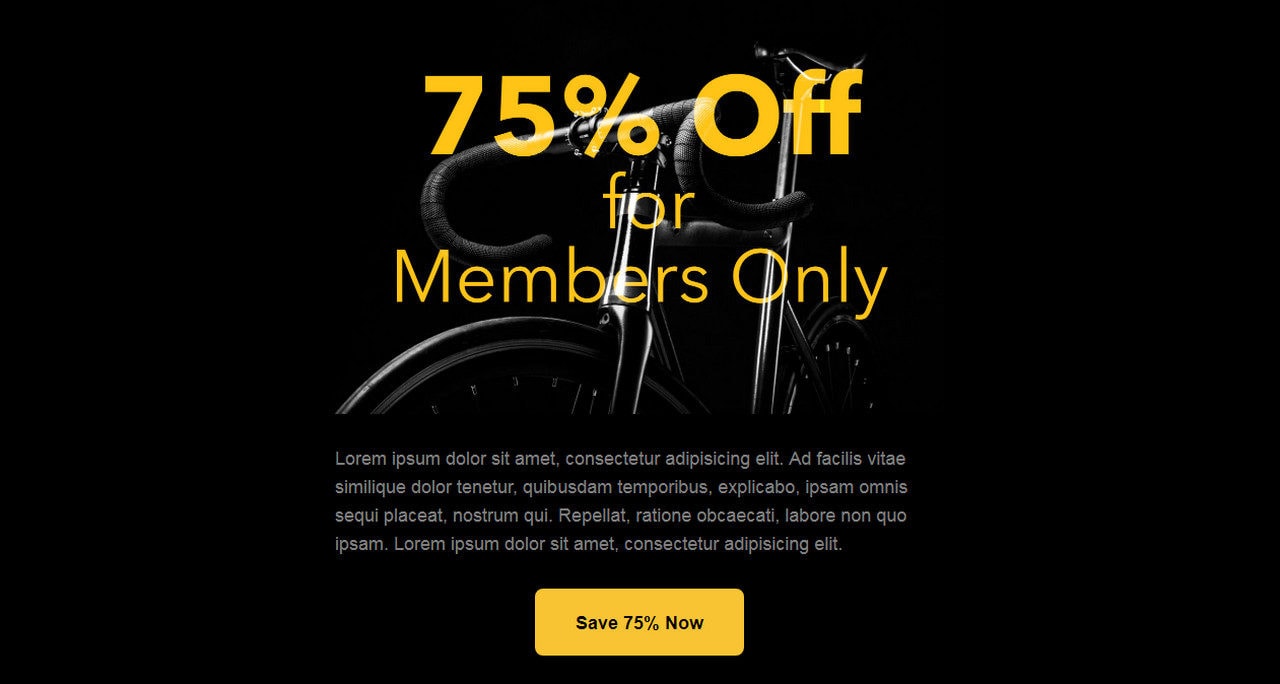 Email newsletter templates come in different forms, including PSD/Sketch/AI and HTML/CSS. Depending on the situation you may find each useful.
PSD templates like Email Template by inox studio or Business Marketing Emailer Template PSD are great for those who have basic knowledge of HTML email and CSS and want everything to look the way they like. More so, it is much easier to adapt it to your needs in this early stage. Consider, Food and Restaurant E-newsletters PSD Template. Initially, it was crafted to satisfy the needs of restaurant owners; however, with some clever tweaks, it can be transformed into an email newsletter for wedding agencies or blogs.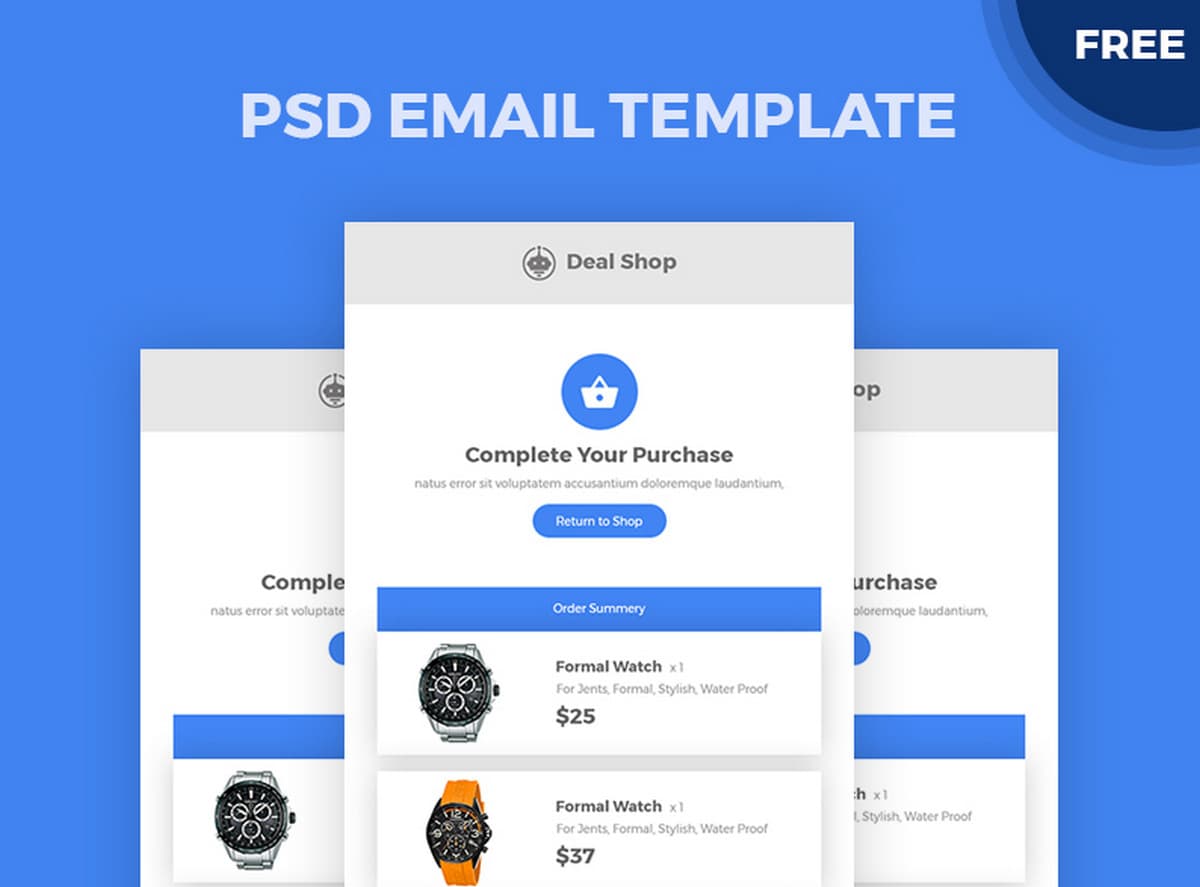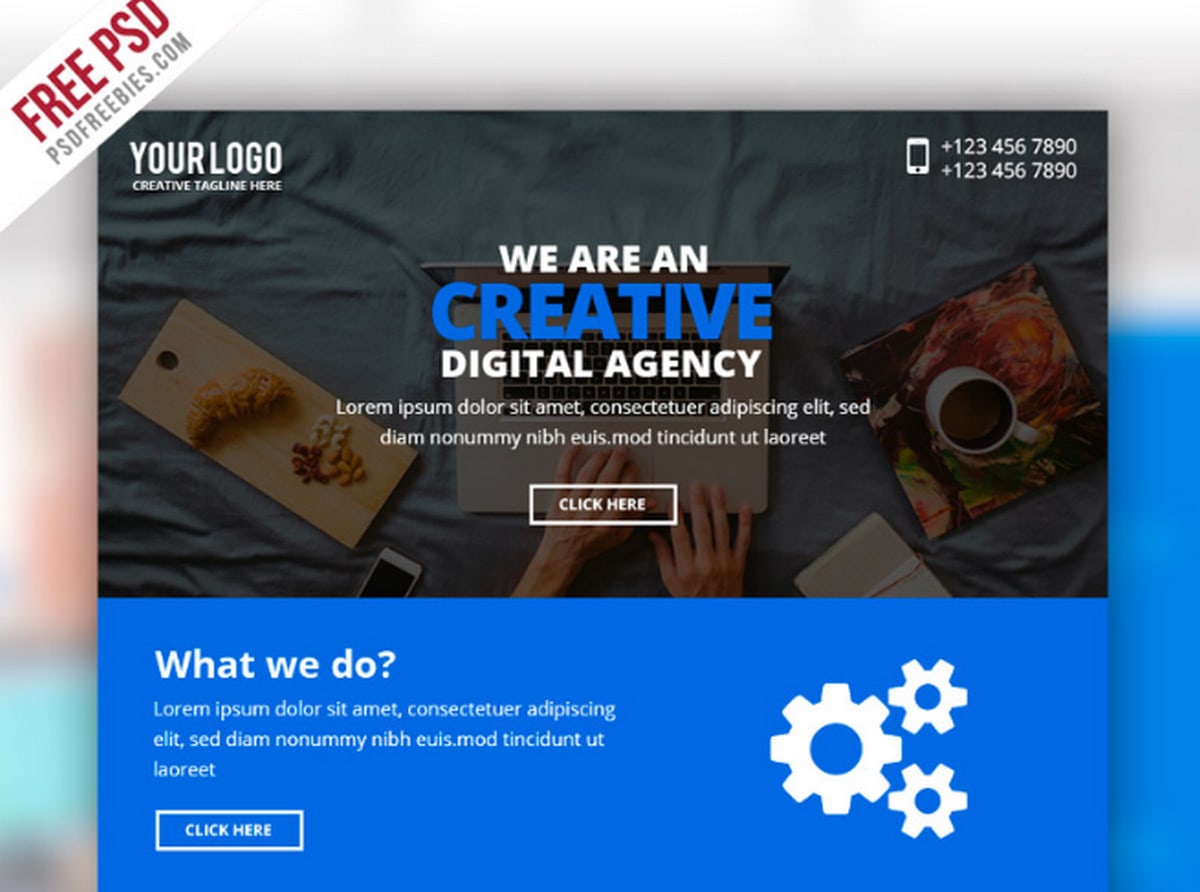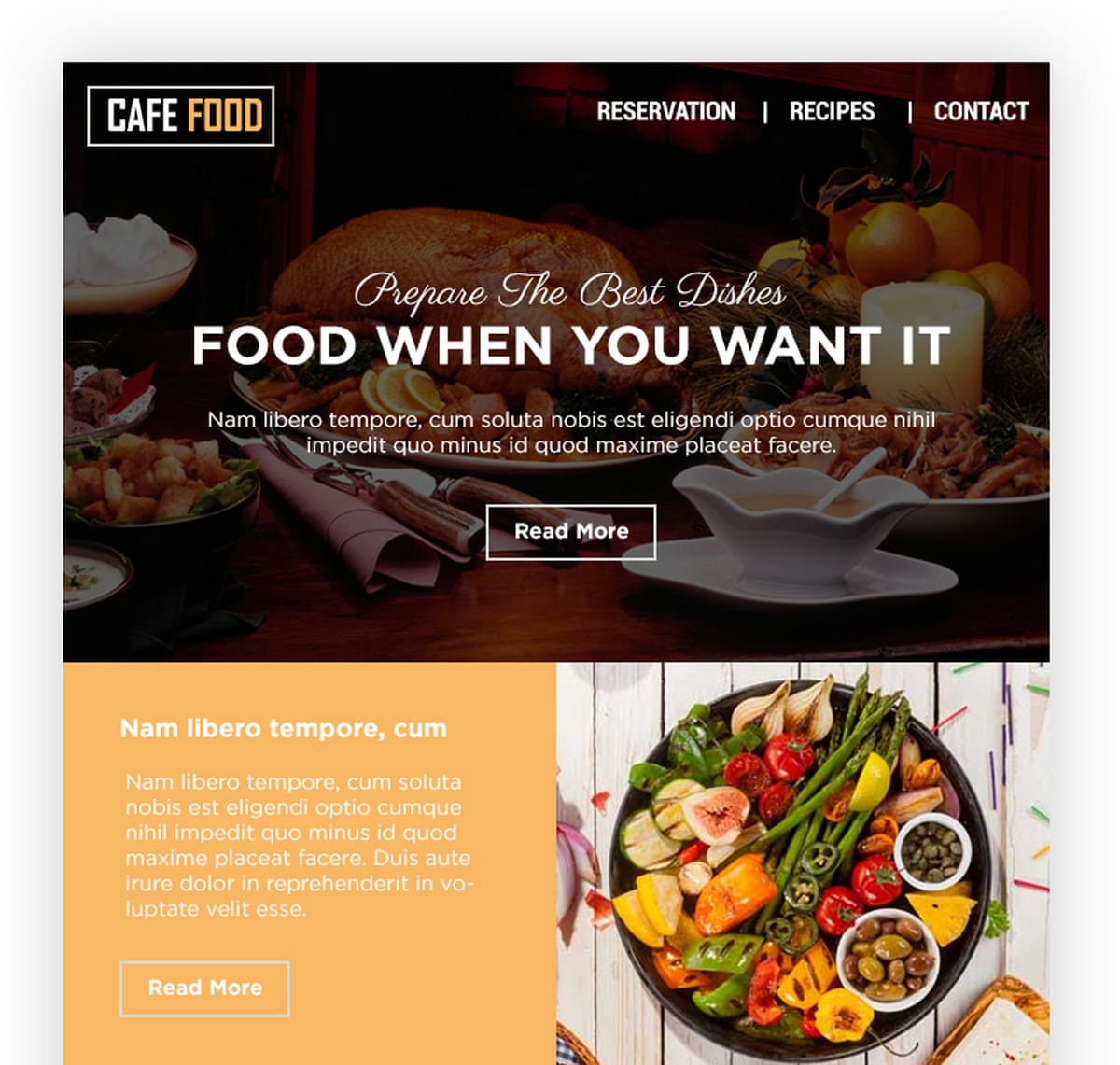 If neither design nor development is your cup of tea, opt for a ready-made HTML email template.
HTML Email Templates
HTML templates are created specifically for those who do not have time to build everything from scratch. You can try:
Classic HTML-based templates such as HTML Email Template by Paul Goddard, a template that follows Google's Material Design specifications.
Email frameworks such as Bojler or Cerberus that offer all the necessary tools (utility classes, components, and objects) for building fully responsive newsletters.
Online services such as BeeFree, that has a ton of professional templates.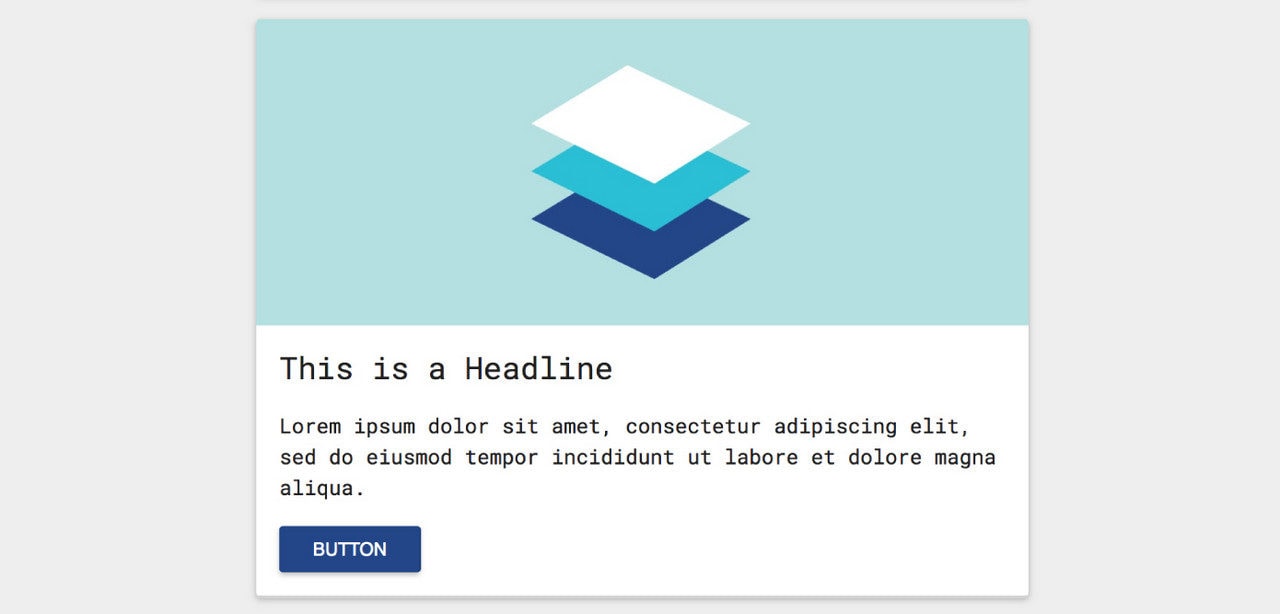 Standalone HTML emails are universal solutions. Consider email templates by emailoctopus. Marked by a neutral design, calm color scheme, and nice typography, all you have to do is to change the text and you are ready to attract users to your website.

Email frameworks and generators like Contactually are ideal partners for those who prefer a mix and match design. With ready-made solutions, it can be tricky to tweak the layout, but with a boilerplate, it is easy. Consider Postcards by Designmodo, Foundation 2, Topol.io  and Frame.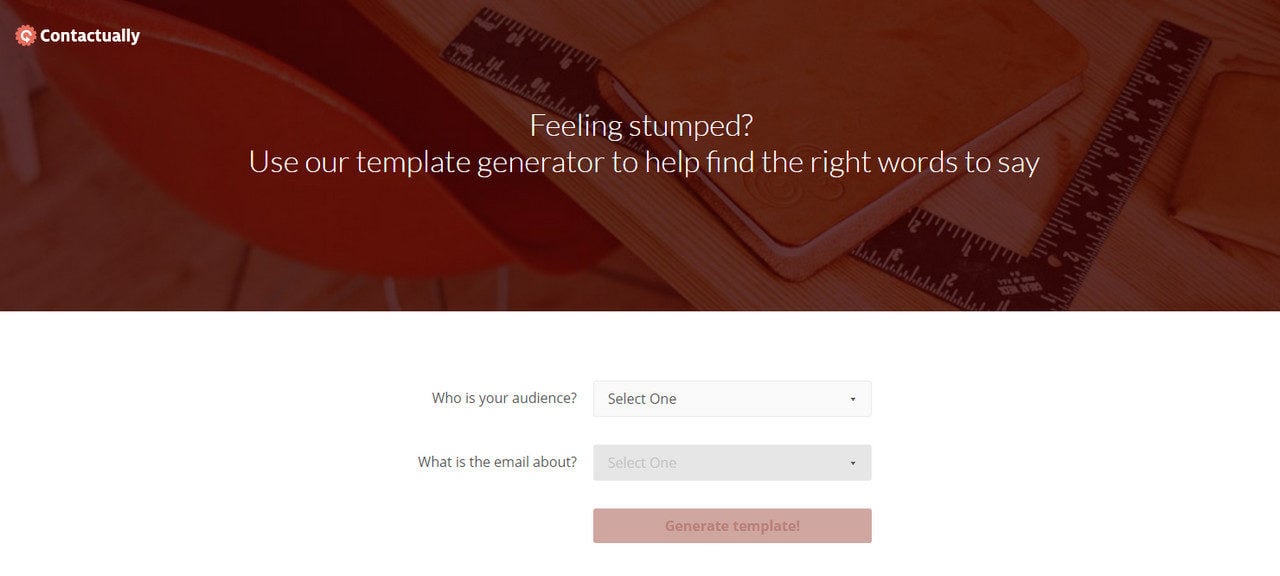 Among these four, Foundation and Postcards stand out.
Foundation has a notable selection of building bricks that let you craft fully responsive templates that work perfectly across numerous platforms. You can build different types of newsletters, including transactional emails, marketing emails and emails for drip campaigns.

Postcards is a sterling newsletter template generator that will surprise you with an astonishing variety of pixel-perfect components with appealing hand-crafted designs. It also comes with a dozen of pre-made modules such as menus, headers, e-commerce boxes, etc.
Despite its remarkable capacity, it is surprisingly easy to operate with thanks to an intuitive interface. Use it to build custom email newsletter templates that will be compatible with all popular and not-so-popular email clients.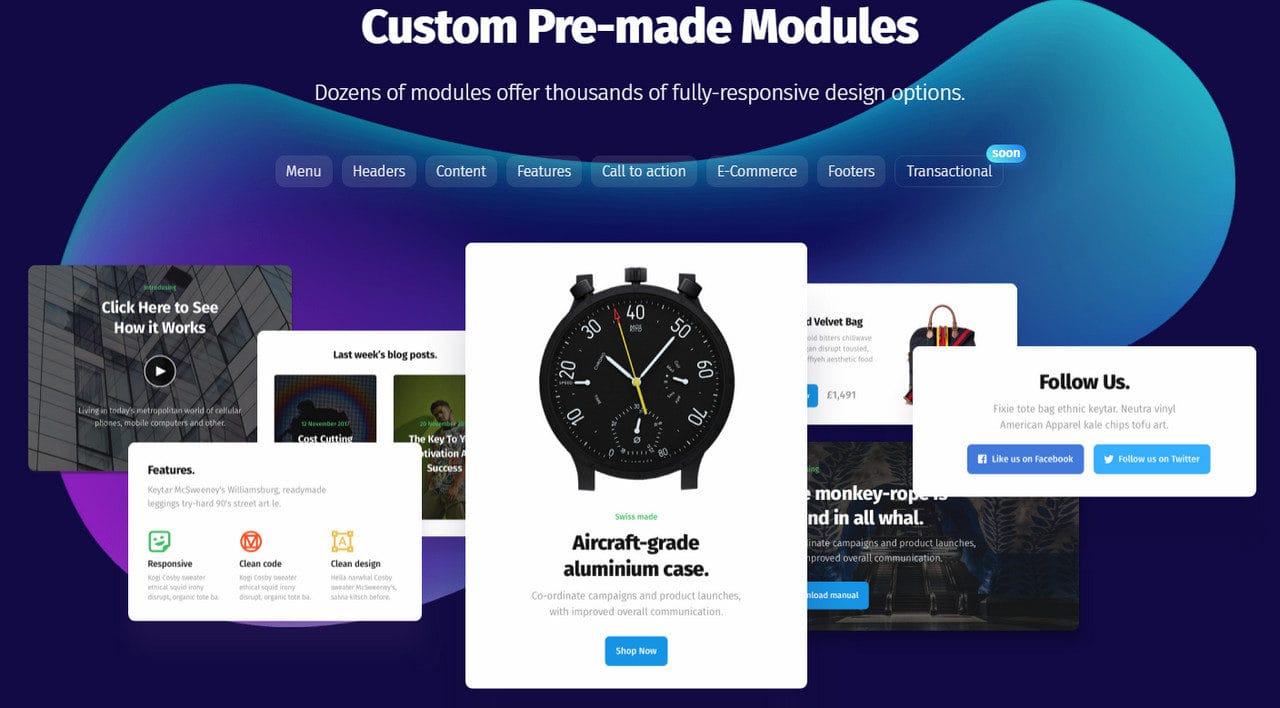 Topol and email Frames are less impressive frameworks, yet still, they have the potential to help you create responsive email templates with beautiful designs.

Email Services as a Valid Source for Templates
Popular tools for managing and running email campaigns such as SendwithUs or eMail Monster also serve as a valid source of free email newsletter templates. SendWithUs has a dozen clean and stylish templates and eMailMonster has an even more impressive selection of free stuff.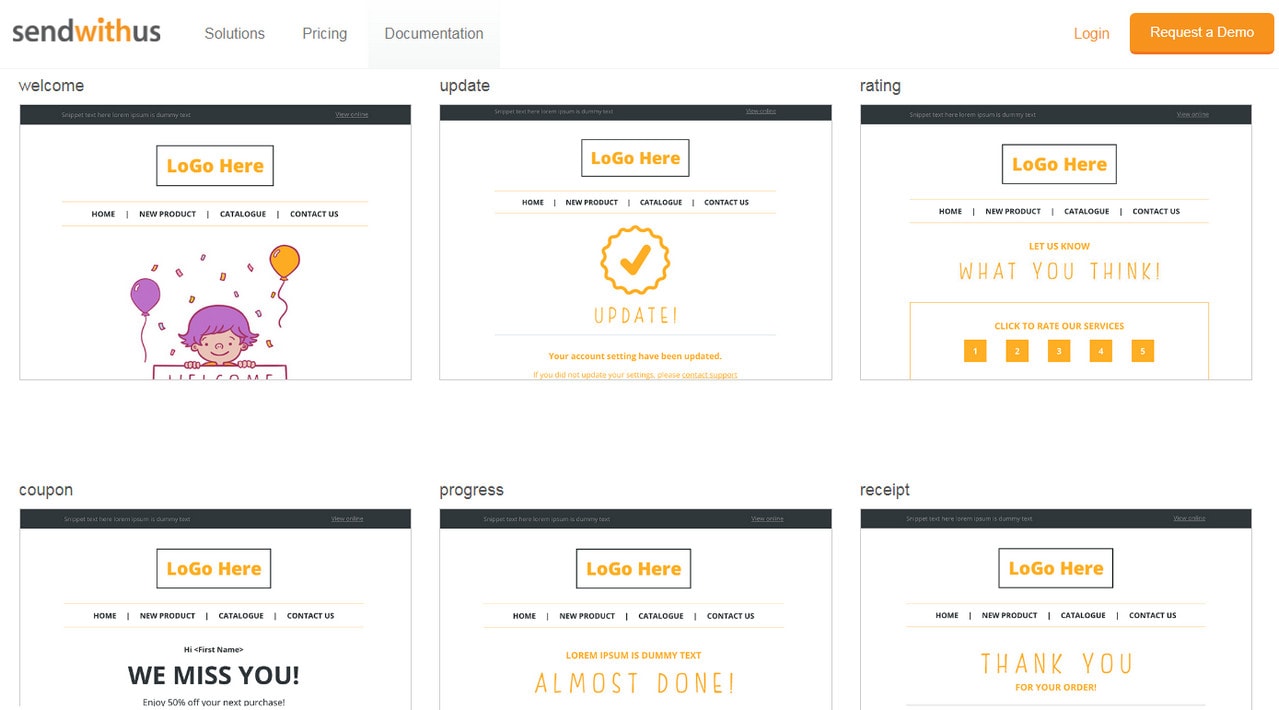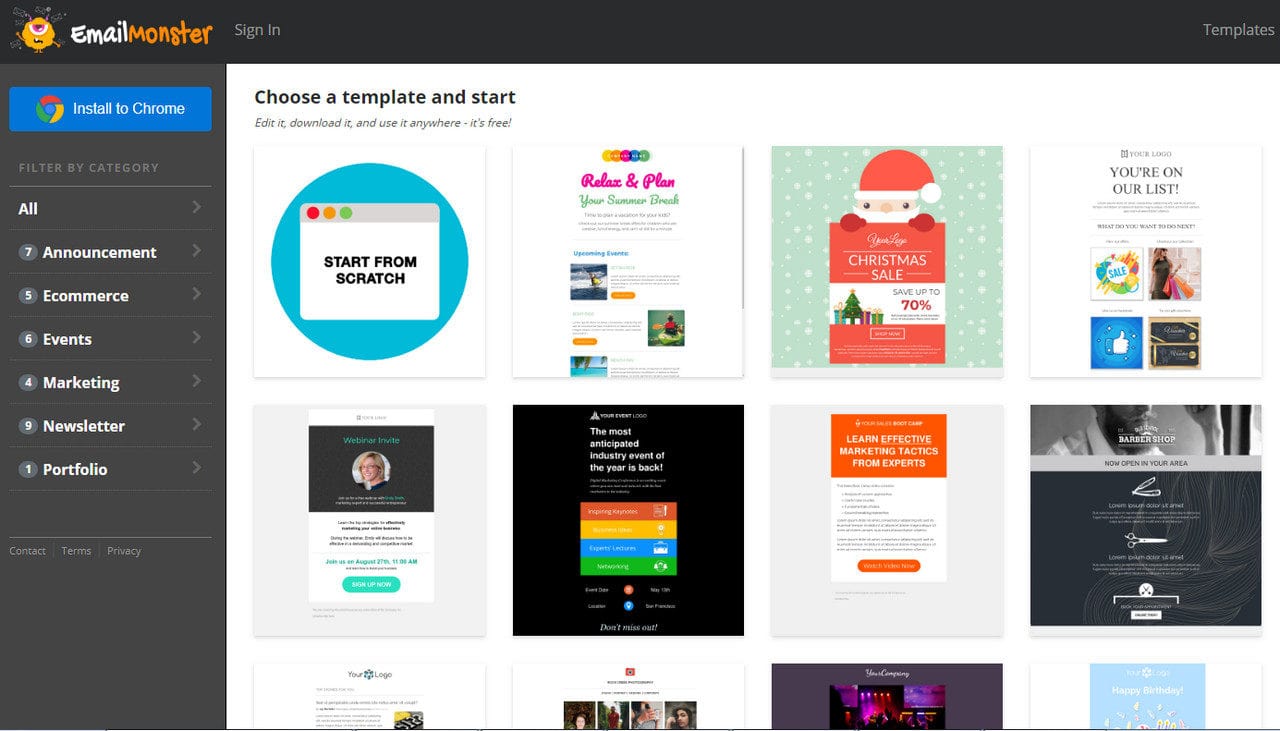 Last But Not Least
Really Good Emails is a round-up of hand-picked email newsletter designs. You can search various categories. The range includes abandoned cart samples, verification messages, etc. Each template is available in codepen so you can explore its core and get some useful hints.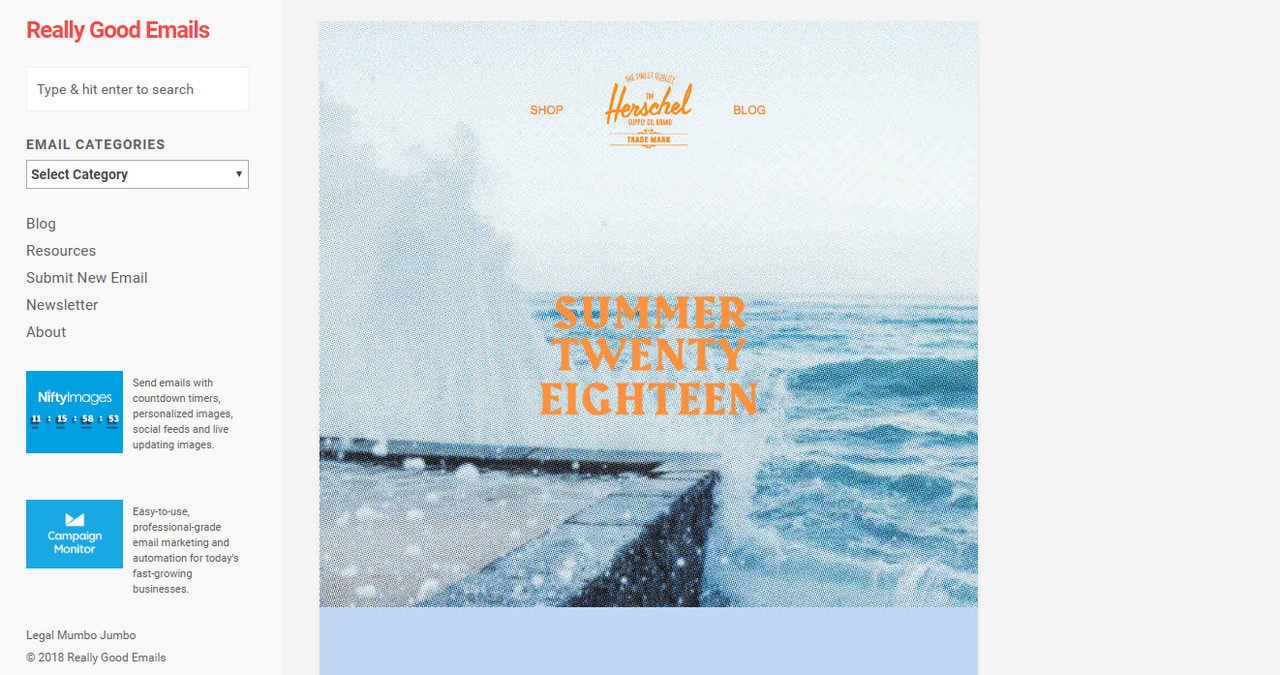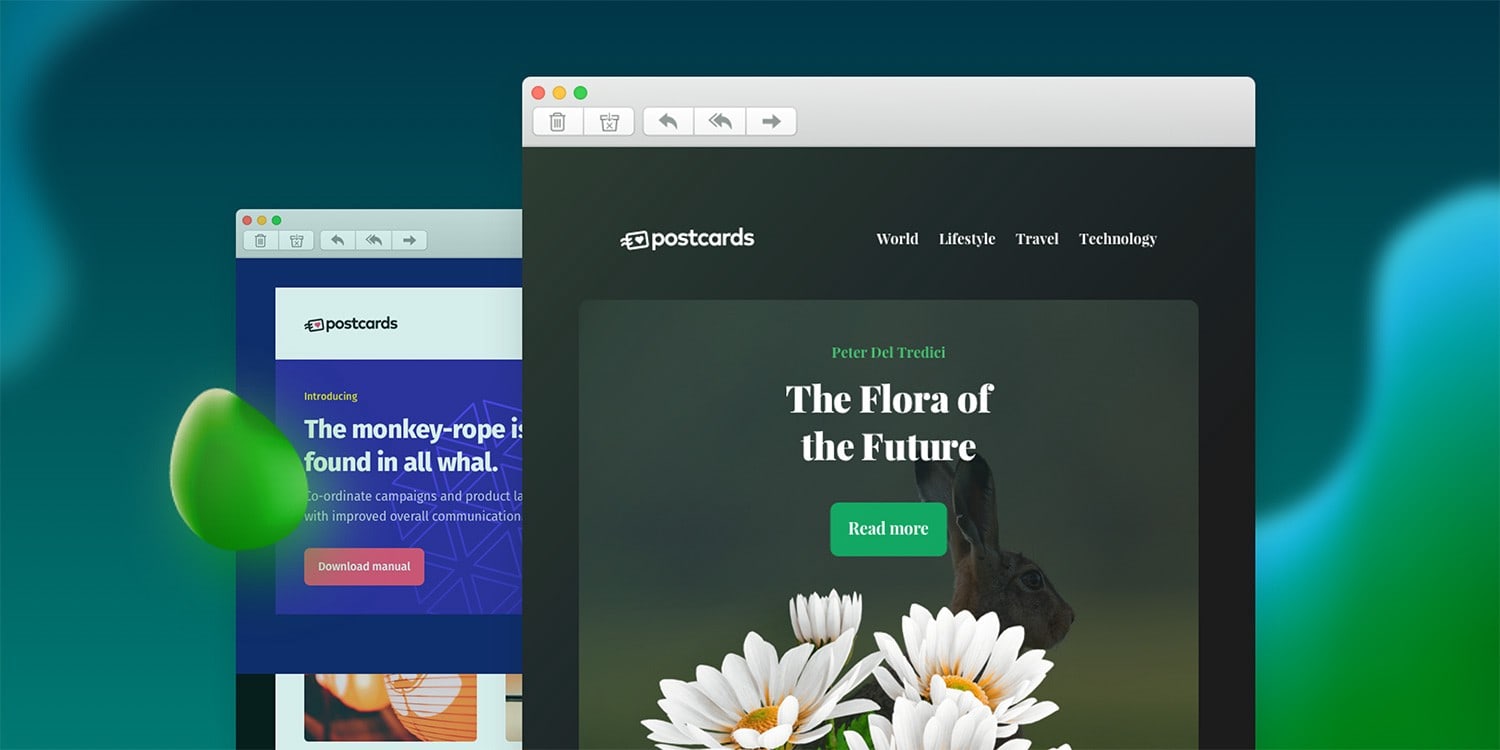 Tip: Using Postcards, you can create beautiful emails newsletters templates in minutes.
Conclusion
Composing an email newsletter template can be a tricky task. Information should be skillfully dished up so that you don't push precious subscribers away.
Good design, several marketing tricks and easily digestible portions of data that are conveyed in an alluring manner are the three pillars of a successful newsletter. Newsletter templates designed by pros try to combine these factors, giving you a great start.
Like what you're reading? Subscribe to our top stories.