Free HTML Email Newsletter Templates
Email marketing is everywhere. Even if you have a website that represents small local business, chances are that you have a list of your loyal subscribers to inform about happenings in your company. Create email newsletter templates is very simple and effective in the present. Choose the right email builder to edit and email newsletter template and customize it. You can use our email builder tool to customize newsletter templates. Holidays, events, festivals, and more—we have email templates for every occasion of yours.
There are different approaches to generate leads. Some methods are time-tested; others are experimental. Some are an immediate success; others are an eventual failure. Among all possible solutions, email campaigns have proved quite beneficial.
Note: Check out the best email newsletter template builder – Postcards. Try it for free!
Strategies for email campaigns vary, but the newsletter templates lie at the heart of each. It is a sort of a decider: whether your readers will be back or ditch you and your company. But make sure that every email design newsletter looks pleasing and is unobtrusive.
Email marketing is one of the most popular ways to reach potential clients and drive traffic to the website. Why?
No-Code Email Template Builder
With Postcards you can create and edit email templates online without any coding skills! Includes more than 100 components to help you create custom emails templates faster than ever before.
Try Free
Other Products
It is not rocket science so everyone can handle it.
It fits any business regardless of the market sector, target audience, or scale.
It has the highest return on investment index.
It does not cost a fortune thanks to numerous free email templates and cost-effective ESP plans.
If you are not still running email-marketing campaigns, you are losing your chance to raise revenue without spending lots of money. Therefore, grab one of the free newsletter templates featured in our collection and set your foot in this area since it promises to take your business to the next level.
Whatever free newsletter template you choose, remember that email newsletter is the heart of every marketing campaign. It is used for various purposes. For instance,
It ignites interest with a sneak peek at new products.
It foists goods with a coupon or discount.
It warms up the audience by announcing a new collection.
It builds relationships by providing helpful tips.
It keeps readers up-to-date.
It entertains the audience with interactive email features.
It keeps your brand fresh in minds with notifications.
Along with these, the email newsletter plays a crucial role in the proper functioning of the web application.  It is used to
send a receipt;
notify about shipping arrangements;
remind about abandoned products in the shopping cart;
welcome email new users;
send a new password, and much more (transactional emails).
Whatever strategy you adopt, whatever goal you have, your newsletter template will be its reflection. Therefore, choose the free template for newsletter wisely.
Note, even though the ready-made HTML email templates may save you from all hustle and bustle of designing and coding, you can still easily create everything by yourself. Use Postcards, an HTML email newsletter builder to handcraft free newsletter templates from scratch.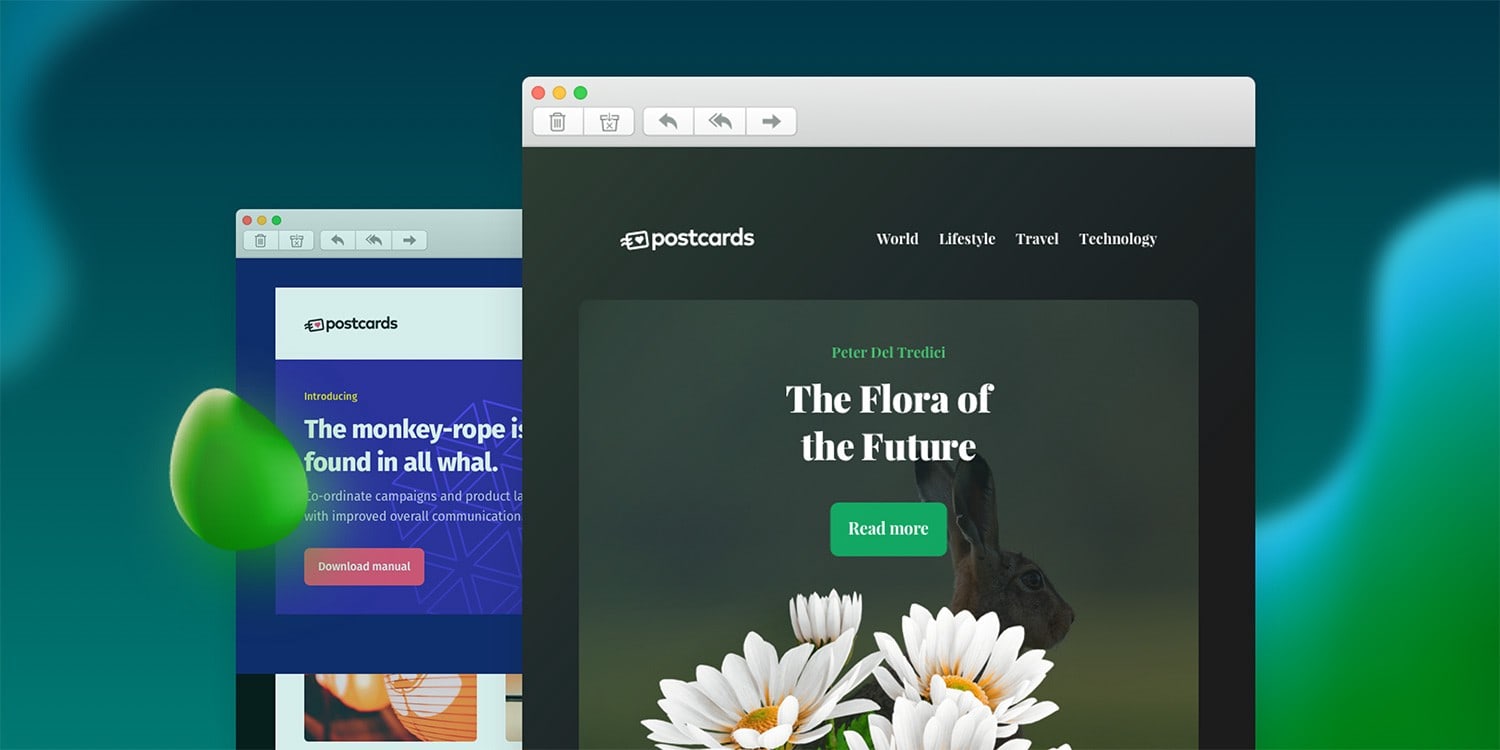 Create Email Templates with Postcards Email Builder [Video]
Using Postcards, you can create beautiful email newsletters templates in minutes with drag and drop features and ready-made modules. Generated and exported emails are optimized for most popular email service providers and email clients (desktop and browsers).
Postcards has a ton of pre-built components made with the current trends in mind. It has an intuitive drag-and-drop playground, where you can build your design brick by brick. It is a lifesaver for non-tech-savvy people who were not managed to find the perfect match for their next campaign among free email templates.
The good email newsletter kills two birds with one stone. It meets the expectations of your customers and works towards the goal set by your email marketing campaign. It is tailored to both subscribers and entrepreneurs' needs. Therefore, it should be thought through. Let us consider the basic principles of well-structured and properly designed HTML email newsletter templates.
Before jumping into structure and design, you should have a clear picture of what you want to get in the final. Therefore, decide on a goal, and then define what type of email newsletter you want to create.
There are different types of email newsletters:
transactional emails,
promotional emails,
eCommerce emails,
informational emails, etc.
However, that is not all. Email newsletter templates can be divided into other groups that also dictate rules for the design.
First, there are seasonal emails. Winter emails cardinally differ from summer emails, whereas spring email blasts stand in stark contrast to autumn ones. You should create a proper entourage for each season.
Second, there are holiday emails. Halloween, Thanksgiving, Christmas, New Year, Black Friday and Cyber Monday, and other small and local celebrations are golden sales opportunities that should bear the atmosphere of the feast.
Types of email newsletters provide a clear sense of direction and give you hints on what assets to use.
In our collection of free email templates, you will see how some of them perfectly fit holiday campaigns, while others are just starting points for other types of marketing campaigns.
Structure
Email newsletter templates come in all shapes and sizes. There is no single solution. However, we can delineate several common blocks.
Top bar. As a rule, the newsletter begins with an ultra-narrow top bar that includes a link to the web version. It is crucial, since whatever happens, users should have the ability to view your email newsletter in the web browser. This alternative version may save the day when the email client fails to show your email newsletter in all its glory.
Header. This is another vital part of an email newsletter. First, it bears your logotype or any other piece of brand identity that instantly separates your company from the others. Second, it includes gateways that help clients to get to their destination quickly.
Hero area. Much like in the web design sphere, email newsletter templates have a hero area where all the vital information highlighted. It is here where you show discounts, pull marketing tricks, and grab attention with catchy taglines.
Main body. This is the most significant part of the structure. Depending on the goal of your email campaign, it may have different modules: testimonials, gallery, video, etc.
It can be big and small. Again, everything depends on the mission of the email newsletter. However, there is one rule. The footer should bear full contact information – including the physical address – unsubscribe link and links to Privacy Policy and Terms of use.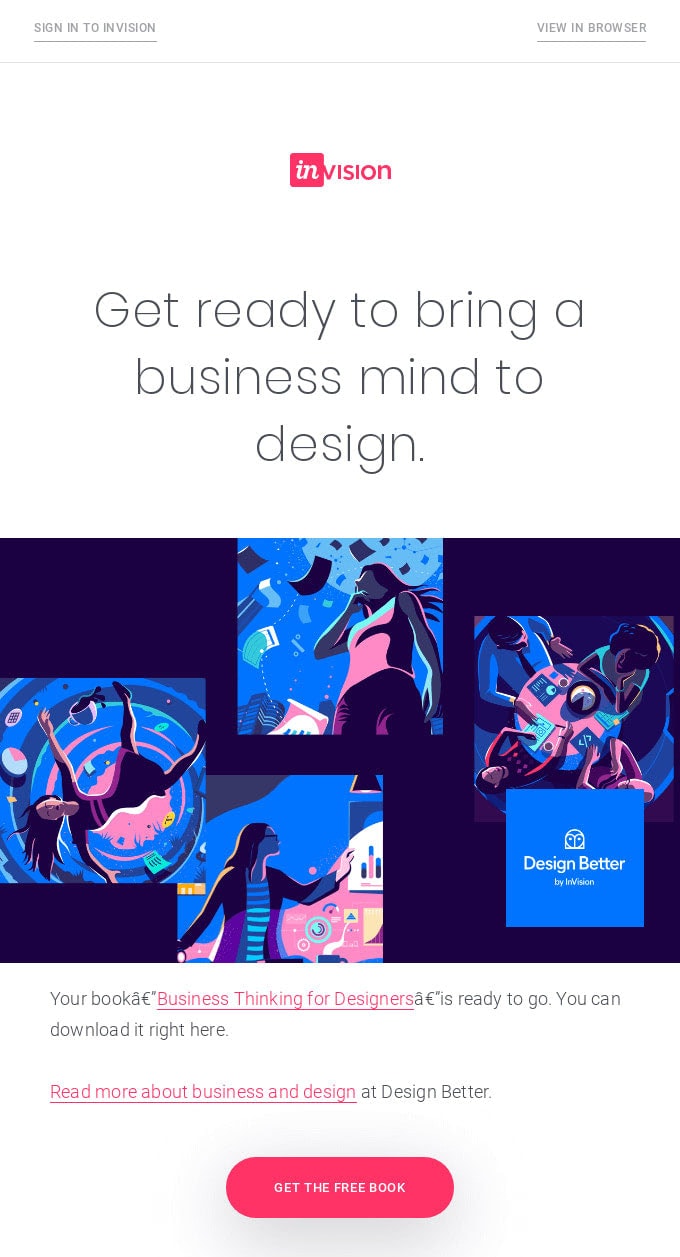 Business Thinking for Designers from inVision
Design
The simplest way to create a harmonious design for an email newsletter is to borrow stylistic choices and solutions from your brand identity and website. This way, you will create consistency through various digital mediums. However, when it comes to seasonal and holiday emails, things are not as simple.
As we have already mentioned, to create a good newsletter design, first you need to define the goal and type since these factors dictate rules. After that, follow these recommendations:
Use one column structure. According to statistics, mobile users are the prevailing audience. Therefore, your email template should look great on small screens. And mobile designs do not imply multi-column layouts. Play safe – use a single column skeleton.
The width of the newsletter should be between 550-600px. However, if you are eager to create a fully responsive email design to meet all sorts of devices – huge monitors, tablets, and cellphones – then your layout should be fluid. Set a range of breakpoints – use media queries – to change width according to screen size.
Place all the critical information on the top of the newsletter template. The reason is simple. A preview panel has an approximately 300px height; therefore, the upper part of the email template is the most viewed one.
Use coloring and typography that create a clear contrast and optimal readability. Use big font size and type families with distinctive letterforms to make characters readable in small screens. Play with whitespace to create a comfortable environment.
The format should be simple and easy to read. Use headlines to set focal points in the reading flow.
Do not bet everything on images. Some email readers do not display them. On top of that, users may turn visuals off. Therefore, your message should be evident without graphics.
Be careful with responsive design. Going responsive is the right move. However, there is a catch. You should bear in mind that not all email readers support media queries. For instance, Outlook may strip them off. Therefore, play safe.
Use tables. Like it or not, but in 2020 you are still obliged to use tables since even the latest versions of email readers do not support flexbox, grid, and other mediums to painlessly create layouts.
Do not use DIVs, positioning, CSS layouts, JavaScript elements, videos, and audios since email readers do not support them.
Use inline styles.
Last but not least, Do A/B Tests
A/B testing is a powerful marketing tool that improves the campaign as well as design. Making a trial run of your email newsletter template before sending it out to the entire crowd is increasingly vital.
Your audience is diverse. Some prefer the green button while others prefer the blue one. Some contacts are eager to indulge in your story, while others want to get all the necessary information right from the get-go. Therefore, a thorough understanding of the target market helps to create a design that resonates with the audience.
One more thing. Along with A/B tests, analyze the click-through rate since it gives you insights on what offers, buttons, and stylistic choices work best.
Email from Austin Eastciders
Although the best practices for generating leads and raising revenue generally concern marketing campaigns, however, they have an indirect impact on the design of the email newsletter.
For example, the first rule of every successful email newsletter campaign is to create a killing subject line that will cut through all sales pitches in contact's inbox. At first glance, it has nothing to do with the design. However, this is a popular misconception. The subject line sets the tone for the email newsletter. It creates anticipation. Therefore, the design of the email newsletter should be its extension and supporting tool.
Another good case in point is that the primary trends of 2020 are AMP and interactivity. People like to be entertained. Therefore, it is highly recommended to use animated gifs, dynamic effects, and interactive hotspots to deliver the message. Again, your design will be centered around these tiny non-static details.
Last but not least, segmentation. Dividing people into groups is a common thing to do. However, it is increasingly effective when it comes to creating a high-converting newsletter template design. The deal is you may put contacts into groups according to such criteria as email readers or devices they use. This will help to create a design that will not fail.
Therefore, cycle through the principles of highly successful email marketing to see how you can perfect the design of your next email newsletter template. This way, you will be able to bring pleasure to the eyes and create an unforgettable user experience that certainly boosts conversions.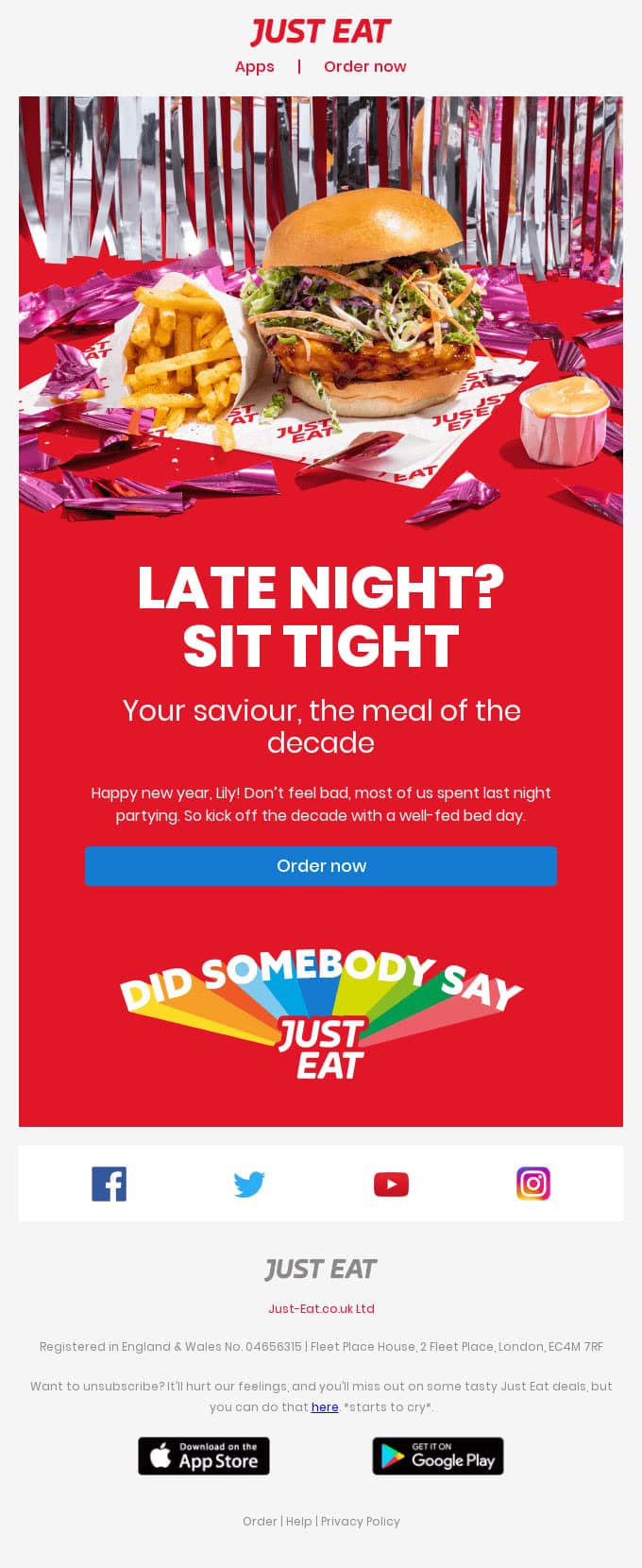 Stay in your PJs from Just Eat
There are several ways to get an email newsletter for your next campaign.
The first one is to create everything from scratch. This option is suitable for those who have design and coding skills as well as follow current trends, specifications, and requirements.
Such newsletter templates require thorough tests to see how they look and behave in different devices, browsers, and email readers. It can be a challenge, even for tech-savvy people. However, there is a way out – use free HTML email template builders.
Among the wide variety of email newsletter template builders, Postcards is one of those solutions that has proven its validity during the years. It has a regularly updated base of field-tested components that meet all current trends and requirements. There is a whole variety to choose from menus, headers, hero areas, blog sections, testimonials, features blocks, lists, galleries, contact forms, footers, and much more.
With Postcards, creating a high-converting email newsletter template is very easy. It will not take up much of your time and effort. The deal is there is a handy interface where you can quickly build design, edit text, and add multimedia and interactive features. You can export the result as a zip package to use generated code in Gmail, Outlook, or other popular clients, or directly import it to MailChimp, HubSpot or any alternative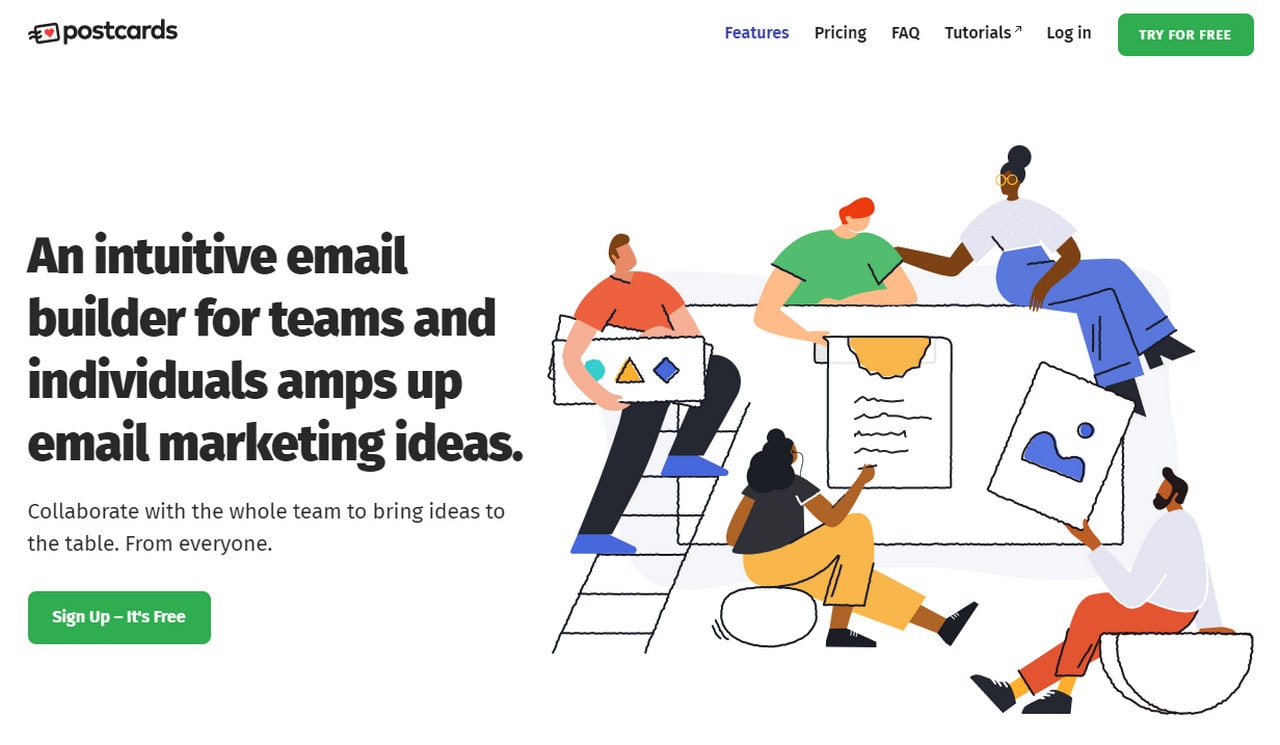 The second way to get an email template is to use one of the free newsletter templates featured in our collection. They can be used as it is or as a solid base to build on. There is a catch. Each and every free email template requires coding skills since all the customization should be done manually in a regular code editor.
The third way to get an email newsletter for your next campaign is to find the template in one of the popular email services.  For instance, SendwithUs or eMail Monster offer not only tools for managing subscription lists and conducting campaigns, but also a collection of free newsletter templates. Some of these services even have playgrounds where you can customize the chosen template or create everything from scratch
However, there are several pitfalls. First, the majority of such email services require premium registration. Second, they focus mostly on marketing tools; therefore, their collections of free email templates are rarely updated. Third, the customization options are limited. Otherwise, they are excellent sources of free email templates.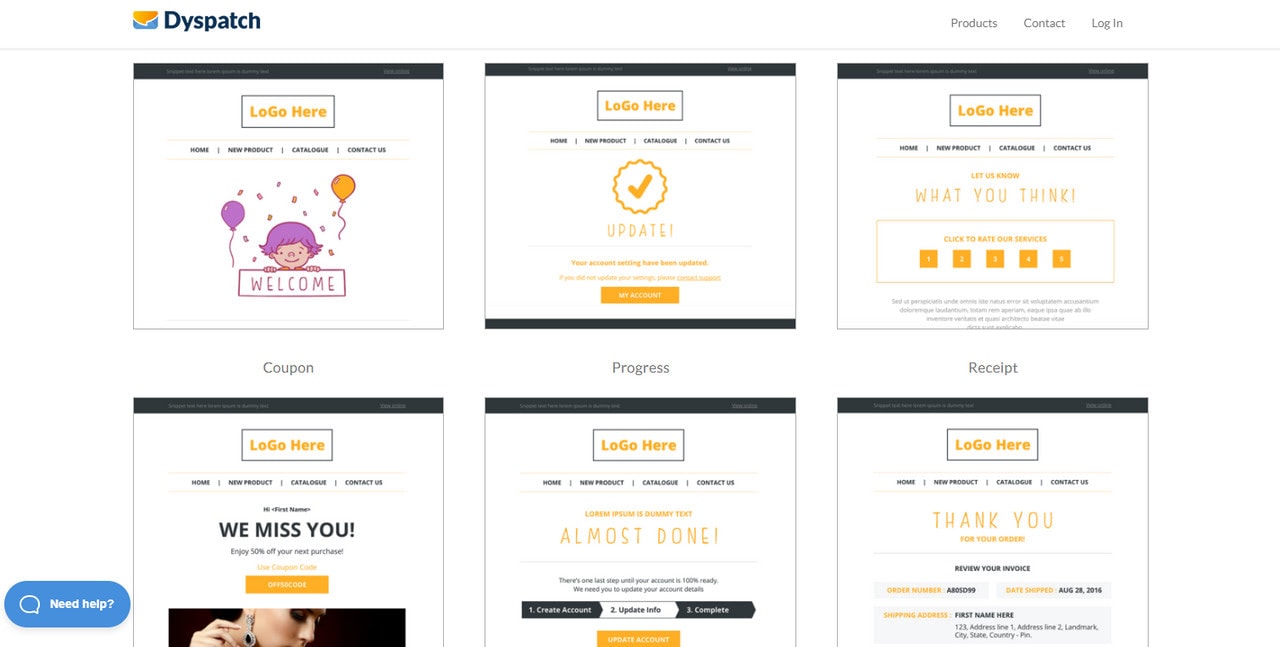 Newsletter Templates
High-converting email newsletter templates can be found in all niches. Even the automatically generated welcome email can drive traffic and boost up conversions by offering a special discount for newcomers. Consider some good examples provided by the leading brands.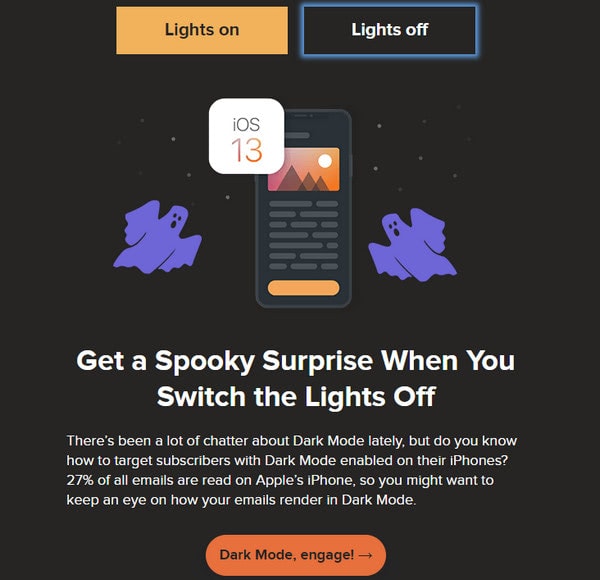 Halloween Email Newsletter from Litmus
As the nameplate states, this email newsletter template is dedicated to one of the beloved autumn holidays, Halloween. It conveys the atmosphere of the feast and sets everyone to the festive mood right away. Note two important things.
First, this is an interactive email. You can switch between light and dark modes to see the difference between them. This way, the team advocates the dark mode.
Second, it is an informative email that effectively keeps the audience engaged, and ipso facto reinforces the relationships with them.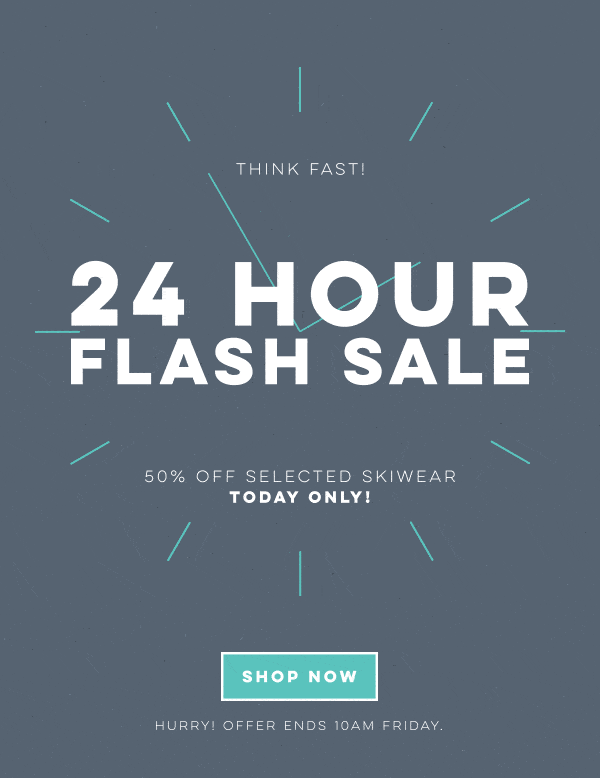 Flash Sale
Flash sale is a typical eCommerce email newsletter that is widely used by the brands of every scale. It is a real lifesaver when there are no big days in the marketing calendar or any valid sales opportunities. Its key feature is that it lasts one or two days. Therefore, it urges subscribers to make their decision faster, playing FOMO card.
This flash sale newsletter stands out from the others due to several important things.
It is increasingly compact. All the critical information is immediately exposed to the crowd.
It includes only the necessary things: offer and call-to-action.
It is based on an animated gif that sets pulses up with its skillful imitation of timer.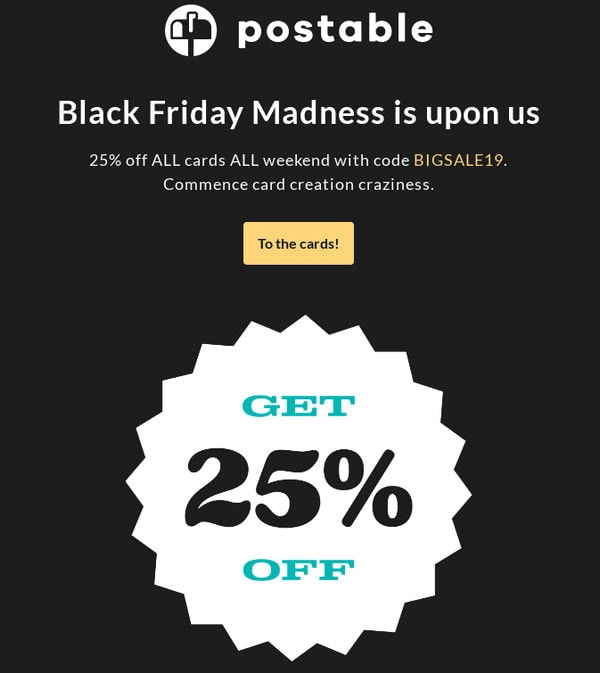 Black Friday Sale from Postable
Much like the previous example, this Black Friday email blast from Postable effectively embraces minimalism. Several things make it a high-converting piece.
First, the team has put an offer on the table from the get-go.
Second, the email is traditionally made in a dark color that creates a festive spirit.
Third, the offer occupies the lion share of the content and stands in stark contrast to the background, instantly drawing attention.
Fourth, call-to-action uses action words that compel subscribers to click the button.
Finally, language is friendly and playful.
It is a symbiosis of principles of good email newsletters.
If you need more inspiration or just want to see for yourself different types of email newsletters, you can always peek inside Newsletter Search Engine and Really Good Emails. This online gallery covers all sorts of email newsletter templates. You can find here fantastic examples of transactional emails, promotional emails, inaugural emails, behavioral email, interactive emails, and others.

Download Free E-Commerce Email Newsletter HTML Template
This free email template created in Postcards was created to meet the needs of every digital store on the online expanses. It has four sections that are highly appreciated by the entrepreneurs: header with navigation and logotype, hero area with the focus on the bestseller, product section with a grid layout, and footer with contact information and social media icons.
Here content is a king. The clean and neat design naturally directs subscriber's attention towards products. On top of that, it looks and works great across various email clients and devices, including those that have retina screens.
It is a perfect solution if you need to announce a new collection, warm up the audience, tout goods, or just generate extra traffic to the website.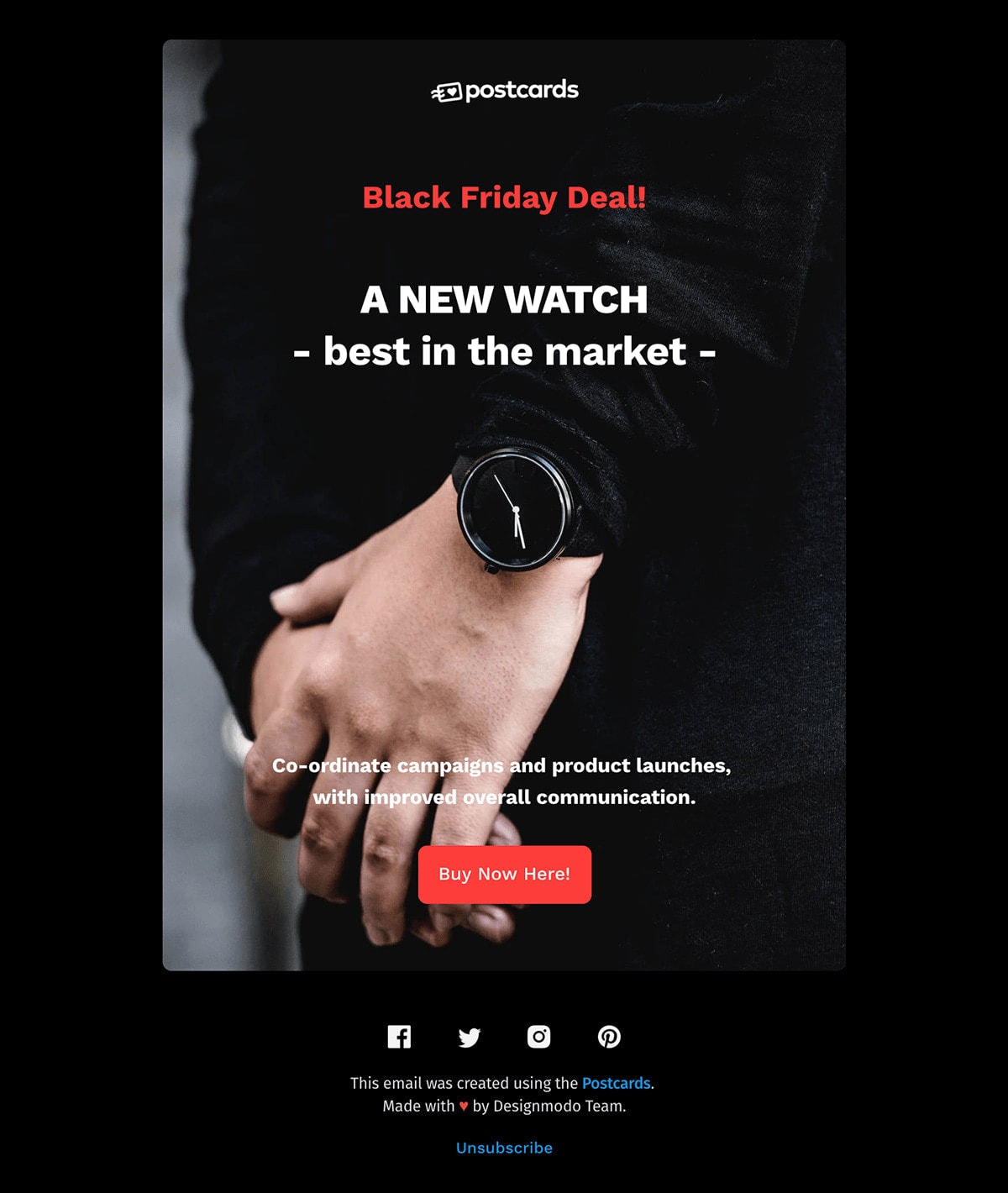 Download Free Black Friday HTML Email Newsletter Template
Much like email newsletter by Postable, this one screams out Black Friday on all fronts. Made in dark aesthetics, it conveys the atmosphere of the biggest sales day in the marketing calendar without much effort. From the first seconds, it becomes apparent what is all about.
It is minimal in terms of content. There are just several text blocks, one call-to-action, and a title. Nevertheless, it is enough to throw a spotlight on the exclusive deal and prepare subscribers for the upcoming event.
This free email newsletter is an excellent solution for those who want to dress up an email campaign according to the occasion. It will play along with the event setting everyone into a proper mood and encouraging clicks and purchases.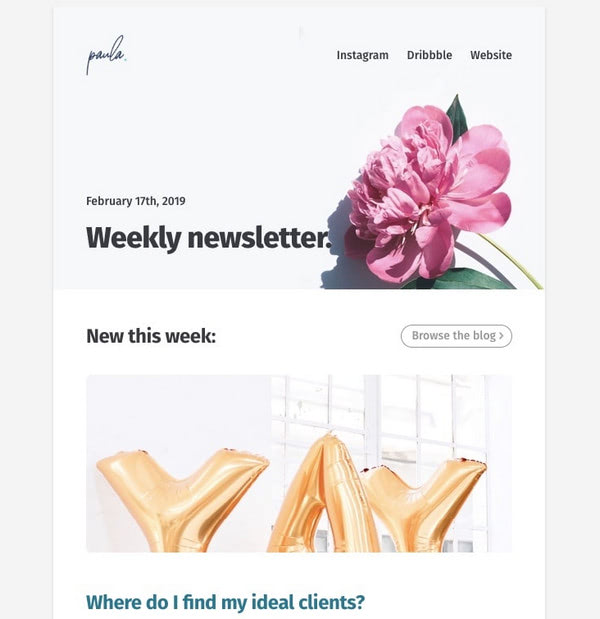 Beautiful and Responsive HTML Email Template
Do not fall for the nameplate of this free email newsletter template. Even though it has beautiful features and lovely aesthetics, it still fits various needs. The deal is it has a flexible structure and well-formatted code so that you can customize it exactly the way you want.
By default, it is an informative piece. Owners of blogs and online magazines will undoubtedly appreciate it. However, you can ditch the central part, change images, and use the header as a hero area, thereby transforming this responsive HTML email template into a promo blast to drive traffic.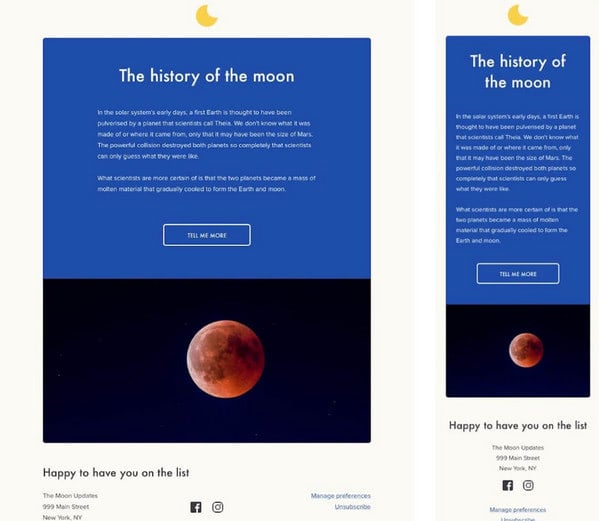 Mobile-First Responsive Email Template
Much like the previous free email template, this one also belongs to the informative category. It is an ideal option for those who want to keep their audience up-to-date. It is fully responsive and mobile-friendly. Therefore, you can be sure that your newsletter will deliver the message to the audience regardless of the device and screen size.
The great thing about this free newsletter template is that it is a starting point to build on. It is simple, minimal, and compact. The team has also provided a tutorial so that you know how to customize it in case you need to tweak the design or add new sections and blocks.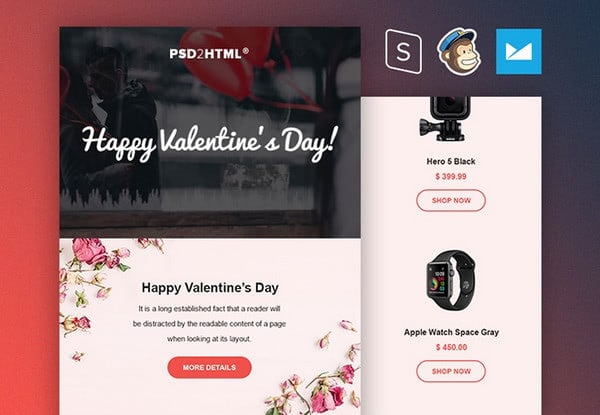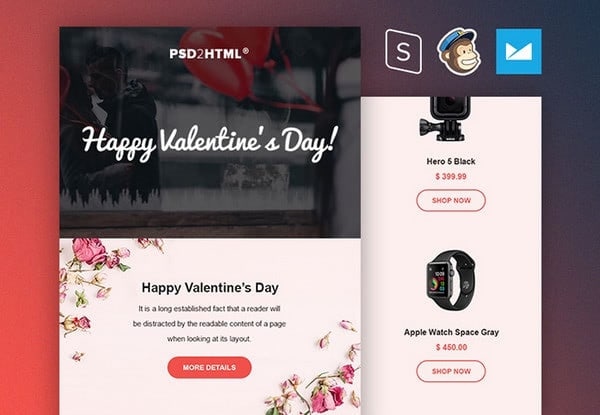 Valentine's Day Email Template
This is another free newsletter template in our collection dedicated to a specific event. This time it is Valentine's Day, the beloved February feast celebrated around the World.
It has a relatively large structure: classic hero area where image background puts everyone in the cheerful mood, blog section, products section, call-to-action block, and of course, footer.  You can use it as an informative email to notify about new products or as a promotional one to direct attention to the offers. It is fully compatible with such marketing platforms as MailChimp, Campaign Monitor, and Stamp Ready.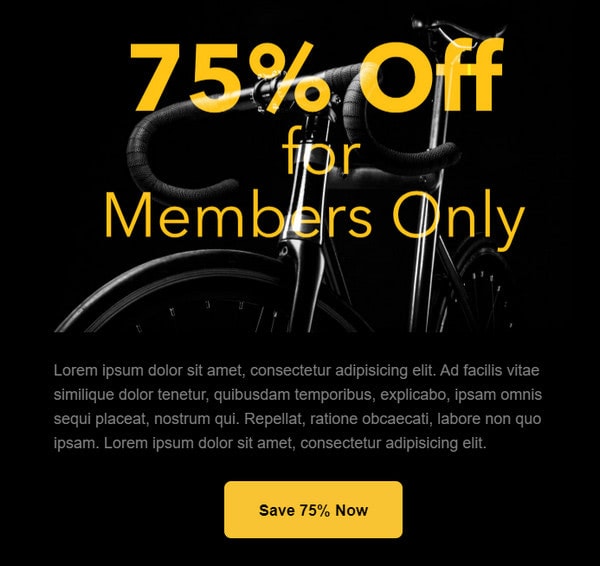 Accessible Email by Jason Rodriguez
Jason Rodriguez shares with us one of those free newsletter templates that are thought through inside out.
Here every image has ALT that is necessary not only for screen readers but also for those subscribers who will not see pictures because their email readers do not support them or because visuals were turned off.
As for the outer side, this free email template immediately catches an eye with its offer since it occupies the entire design. Everything is centered around it. It also has a dark aesthetics that makes it a perfect option for Black Friday. Though, with some customization, it can be used for any other event.
This free newsletter template is increasingly oversimplified, but still, it does its job perfectly. It treats discount as a piece in the exhibition and naturally compels contacts to hit call-to-action, and ipso facto generate conversions.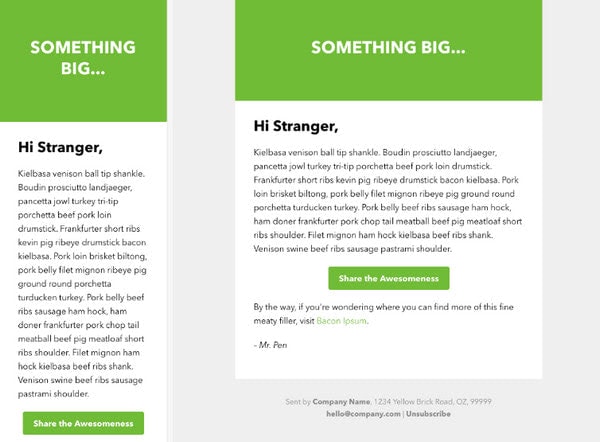 Derek Punsalan – the author of this free email template – has a thing for simple solutions. His freebie is increasingly oversimplified. It reminds a plain text email newsletter. Nevertheless, it is still an HTML template that can be highly beneficial for you.
The thing is it is not supposed to be something fancy, complicated, or promising. Its task is to be a solid foundation for your imagination to run riots. It is fully responsive; therefore, you will not have any problems with the incorrect display on small screens.
If you want to create everything from scratch, it is one of those free email templates that you need. It will be a flexible skeleton to build on.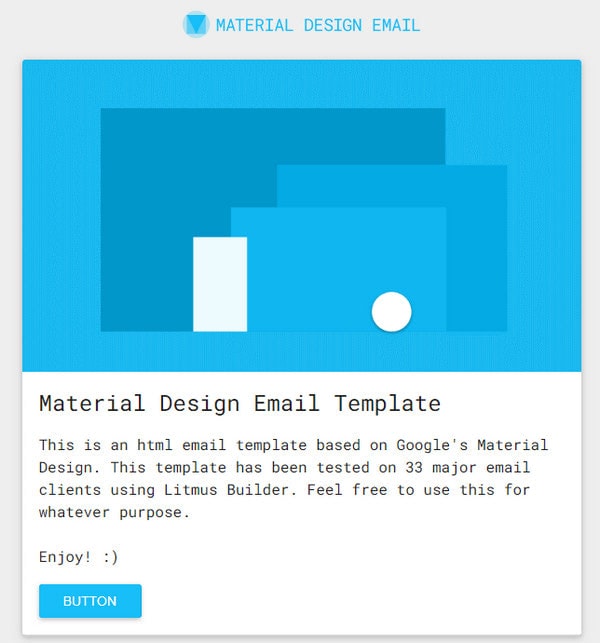 Free HTML Email Template by Paul Goddard
When you surf through free newsletter templates, it is always difficult to find one that complies with Google's principles for good design. Thankfully, Paul Goddard has shared with the online crowd email template centered around this doctrine. His free email template is made with material design in mind.
Here every section is a card. Although we all are accustomed to web-design-esque layouts, there is still something in it. I bet there will be marketers who will instantly appreciate this design and make the most out of it. After all, it has an element of surprise that brings people to your side and makes touting goods less intimidating.
The design is perfect for creating information emails, especially when you need to show several posts from your online magazine and blog in an unobtrusive way. Though, with some tweaks, you may easily convert the first block into the hero area with an offer. Everything depends on your imagination.
Finally, yet importantly, this free email template was tested on more than 30 email clients providing consistency no matter what.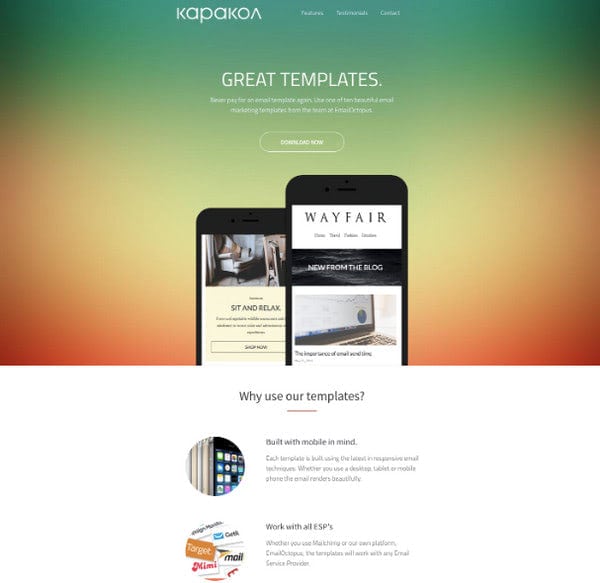 Responsive, Free HTML Email Templates
EmailOctopus offers a small collection of free newsletter templates. They fall in different categories; therefore, chances are you will find the perfect match for your next campaign.
Each free email template is responsive, thoroughly tested on various email clients, browsers, and screens and compatible with EmailOctopus, MailChimp, and other popular platforms. It has a neat and neutral design that can be adjusted for various needs: you may even use it as a transactional email like an onboarding email or abandoned cart email.
Take a look at Victor's email newsletter template, Valentine's Day email and templates by Mjml as examples.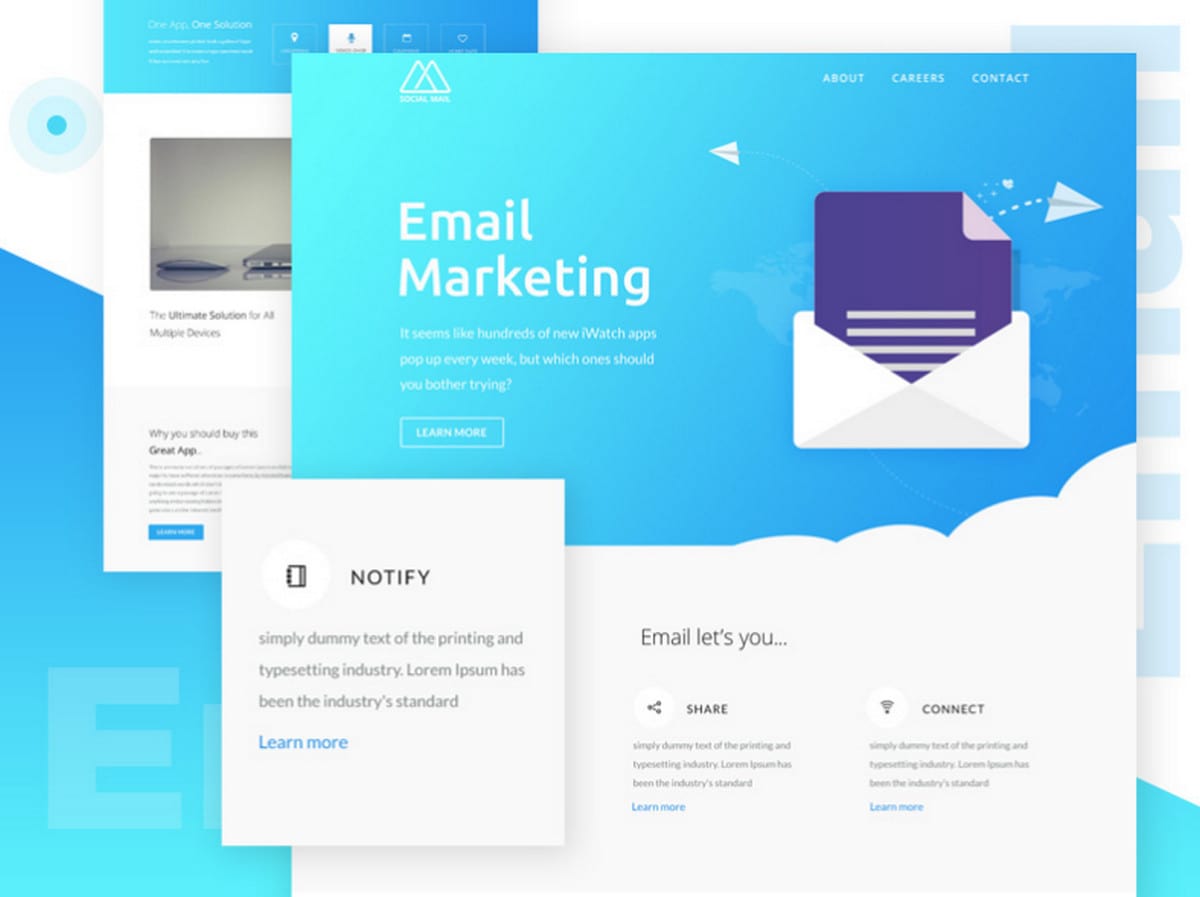 These three freebies represent different categories, yet they have one thing in common – they skillfully balance design and information, feeling professional.
The first is an outstanding PSD template. It has a marvelous businesslike atmosphere and gorgeous coloring. The second is an HTML email newsletter template with a lovely festive mood. Although it is made with Valentine's Day in mind, it can be easily adapted for other campaigns.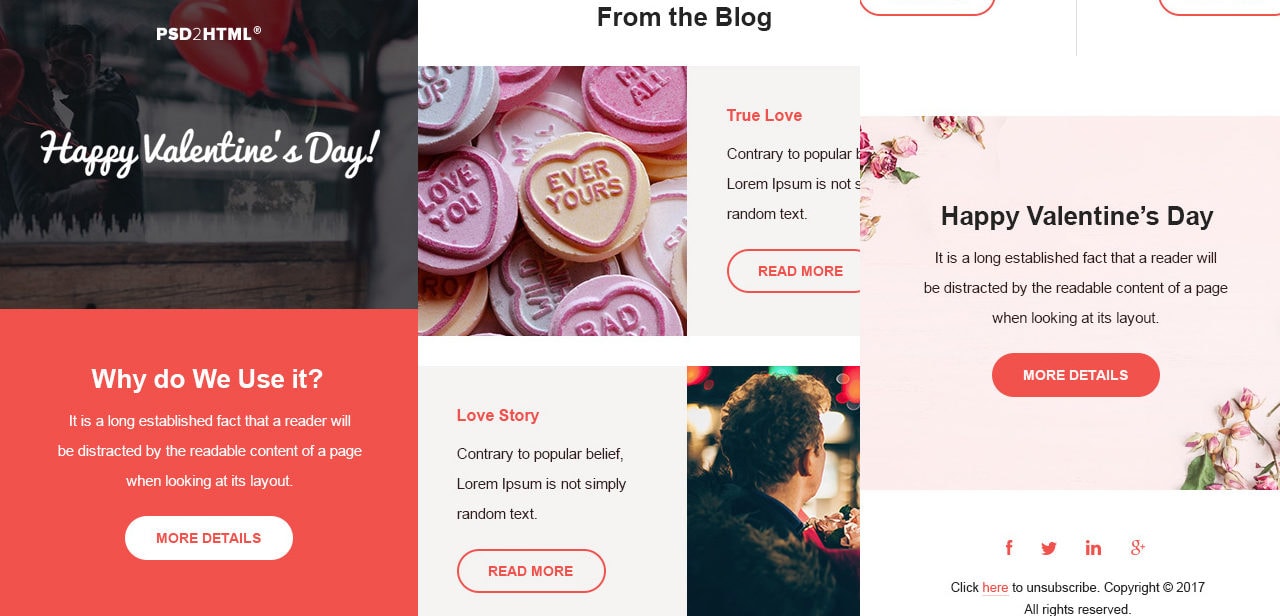 Much like the freebie by PSD2HTML, the templates by Mjml are HTML-based. They are responsive, so you can quickly customize them by inserting content, changing colors or, if necessary, altering the design.
Another thing that unites these templates is that they do not look like regular email newsletters; they look like micro websites or digital flyers with buttons to click. Let's compare them to Really simple responsive email templates, Accessible Emails, and Simple Responsive Email. The freebies by Lee Munroe, Jason Rodriguez, and Derek Punsalan are perfect solutions for simplicity aficionados. They convey the required information unobtrusively and pleasantly looking on desktop monitors and mobile devices. But regarding the design, they are insipid and primitive. The previous trio certainly looks more attractive.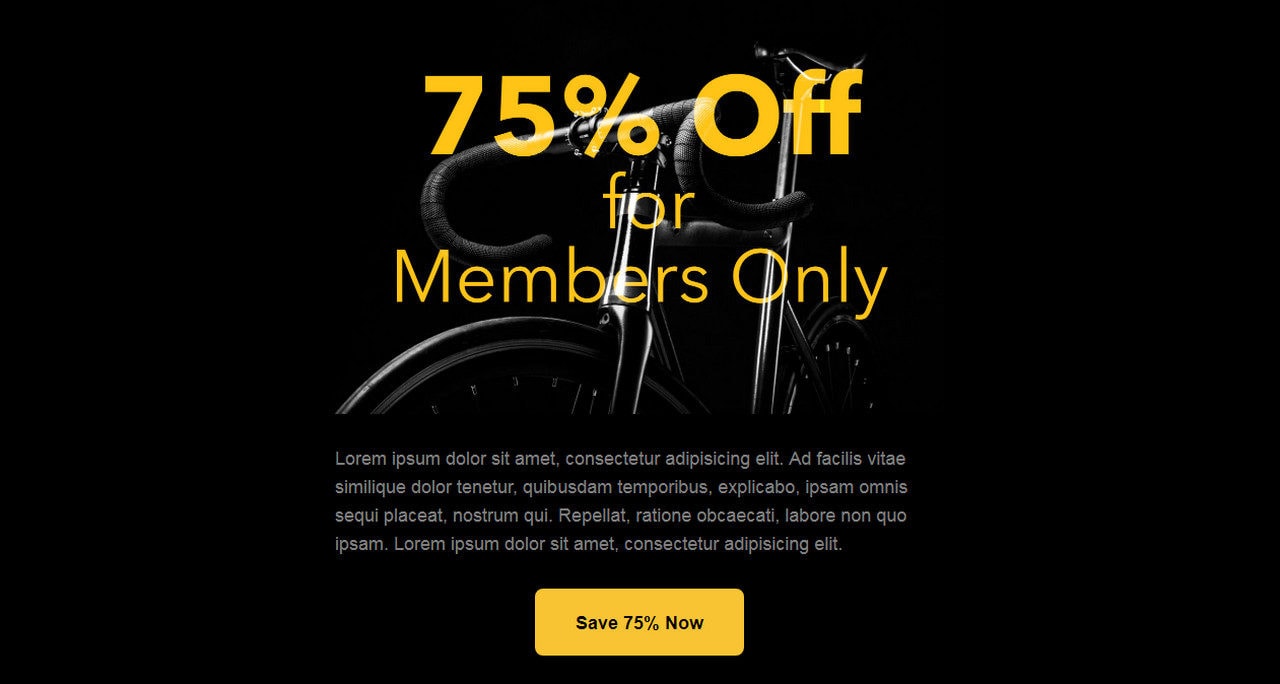 Email newsletter templates come in different forms, including PSD/Sketch/AI and HTML/CSS. Depending on the situation you may find each useful.
PSD templates like Email Template by inox studio or Business Marketing Emailer Template PSD are great for those who have basic knowledge of HTML email and CSS and want everything to look the way they like. More so, it is much easier to adapt it to your needs in this early stage. Consider, Food and Restaurant E-newsletters PSD Template. Initially, it was crafted to satisfy the needs of restaurant owners; however, with some clever tweaks, it can be transformed into an email newsletter for wedding agencies or blogs.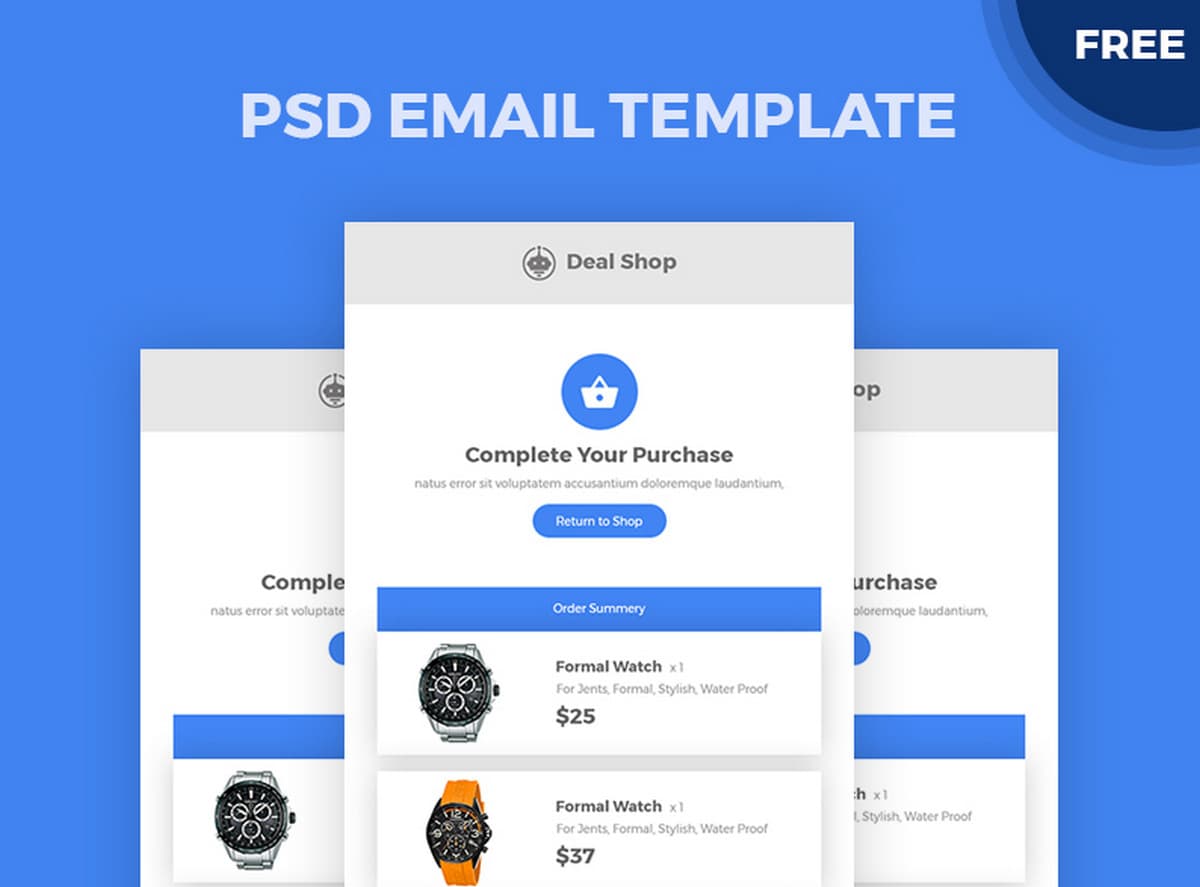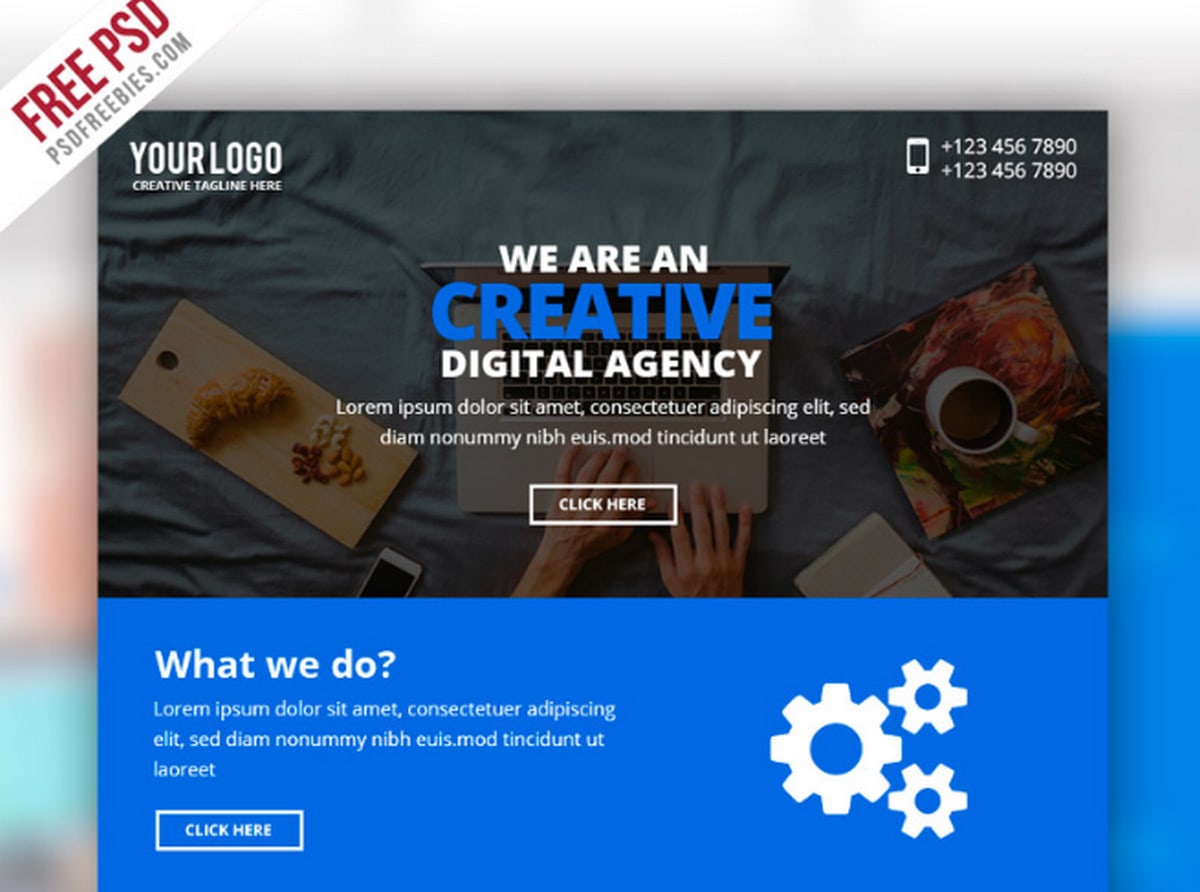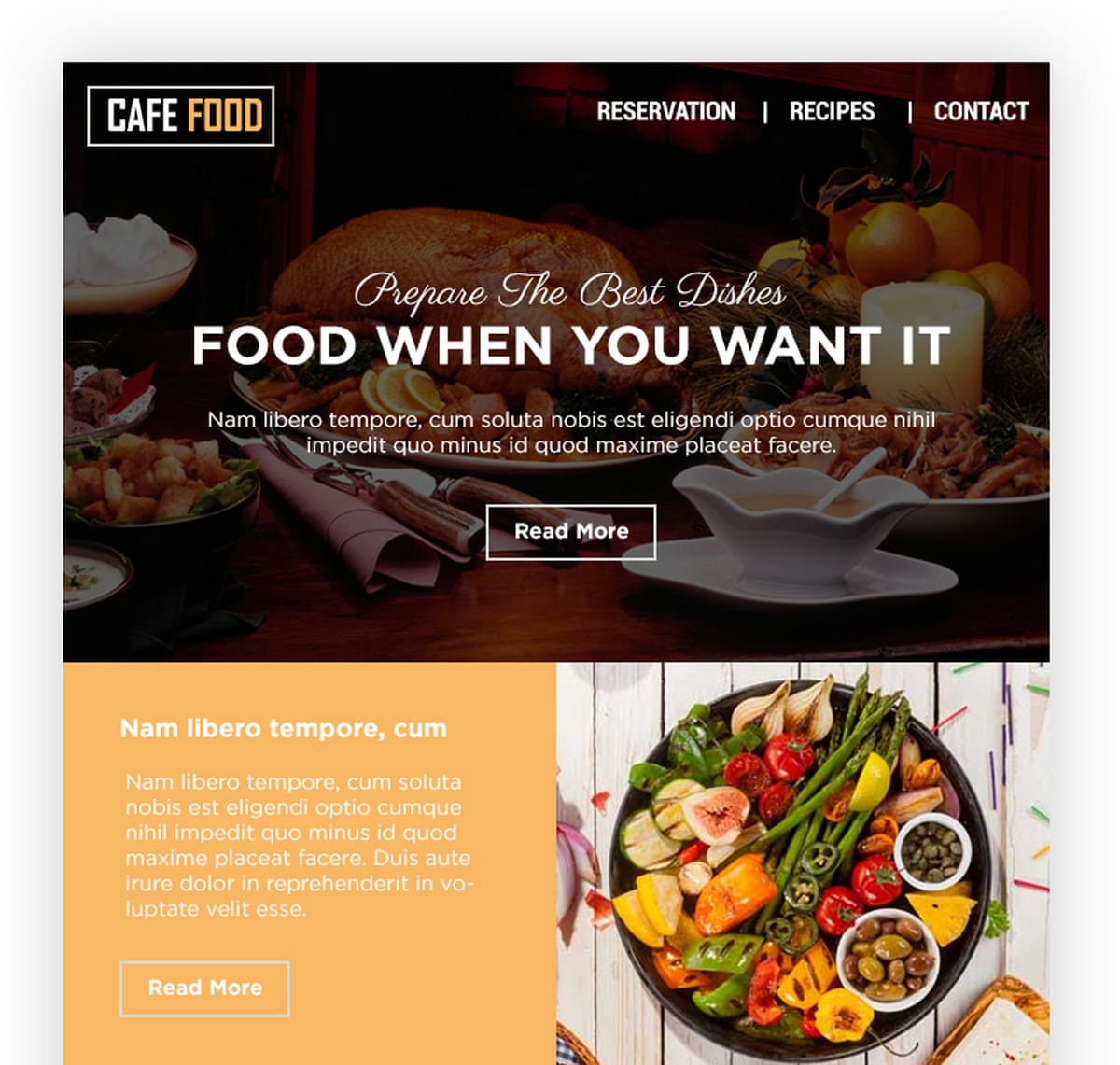 Food and Restaurant E-newsletters PSD Template
If neither design nor development is your cup of tea, opt for a ready-made HTML email template.
HTML email templates are created specifically for those who do not have time to build everything from scratch. You can try:
Classic HTML-based templates such as HTML Email Template by Paul Goddard, a template that follows Google's Material Design specifications.
Email frameworks such as Bojler or Cerberus that offer all the necessary tools (utility classes, components, and objects) for building fully responsive newsletters.
Online services such as BeeFree, that has a ton of professional templates.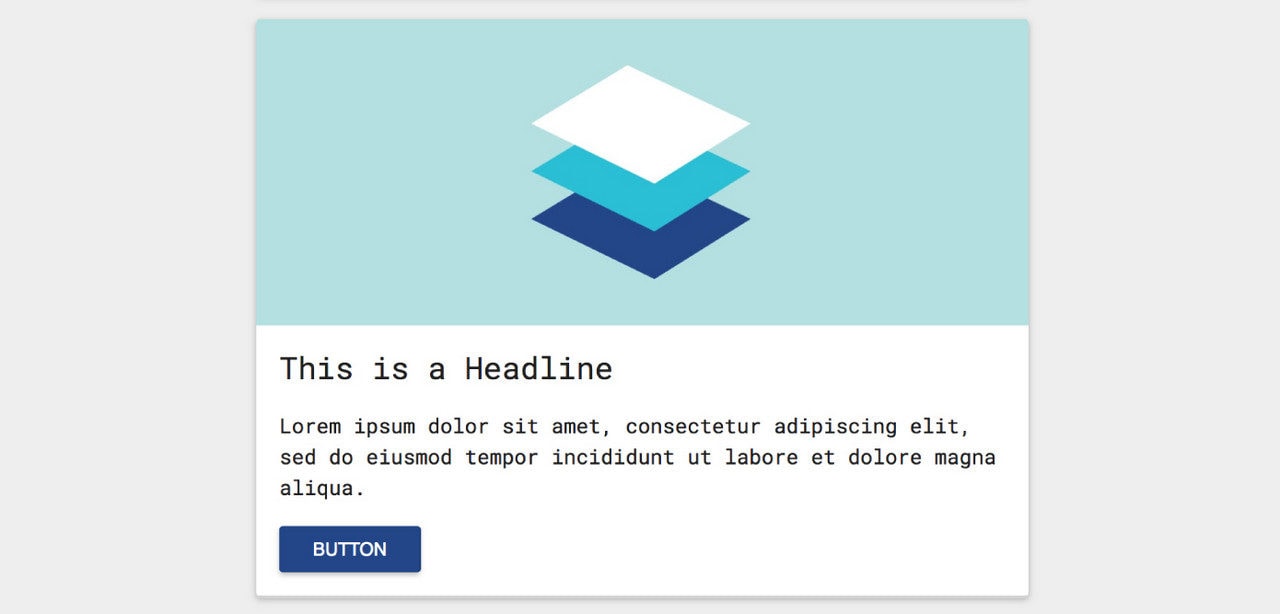 Standalone HTML emails are universal solutions. Consider email templates by emailoctopus. Marked by a neutral design, calm color scheme, and nice typography, all you have to do is to change the text and you are ready to attract users to your website.
Email frameworks and generators like Contactually are ideal partners for those who prefer a mix and match design. With ready-made solutions, it can be tricky to tweak the layout, but with a boilerplate, it is easy. Consider Postcards by Designmodo, Foundation 2, Topol.io  and Frame.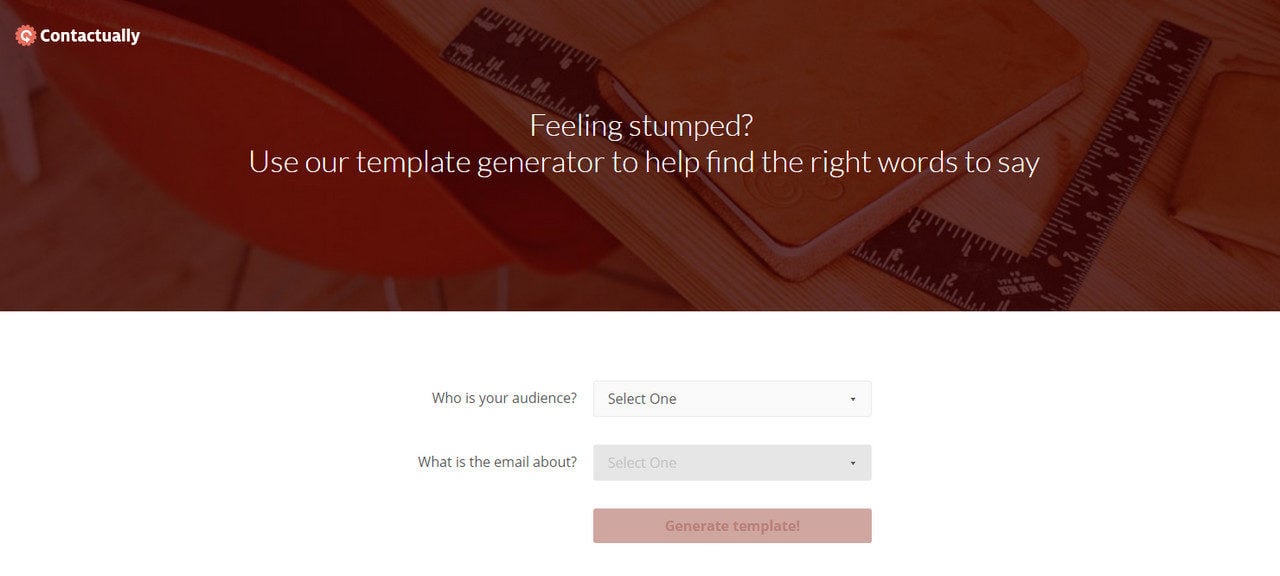 Contactually
Among these four, Foundation and Postcards stand out.
Foundation has a notable selection of building bricks that let you craft fully responsive templates that work perfectly across numerous platforms. You can build different types of newsletters, including transactional emails, marketing emails and emails for drip campaigns.
Postcards is a sterling newsletter template generator that will surprise you with an astonishing variety of pixel-perfect components with appealing hand-crafted designs. It also comes with a dozen of pre-made modules such as menus, headers, e-commerce boxes, etc.
Despite its remarkable capacity, it is surprisingly easy to operate with thanks to an intuitive interface. Use it to build custom email newsletter templates that will be compatible with all popular and not-so-popular email clients.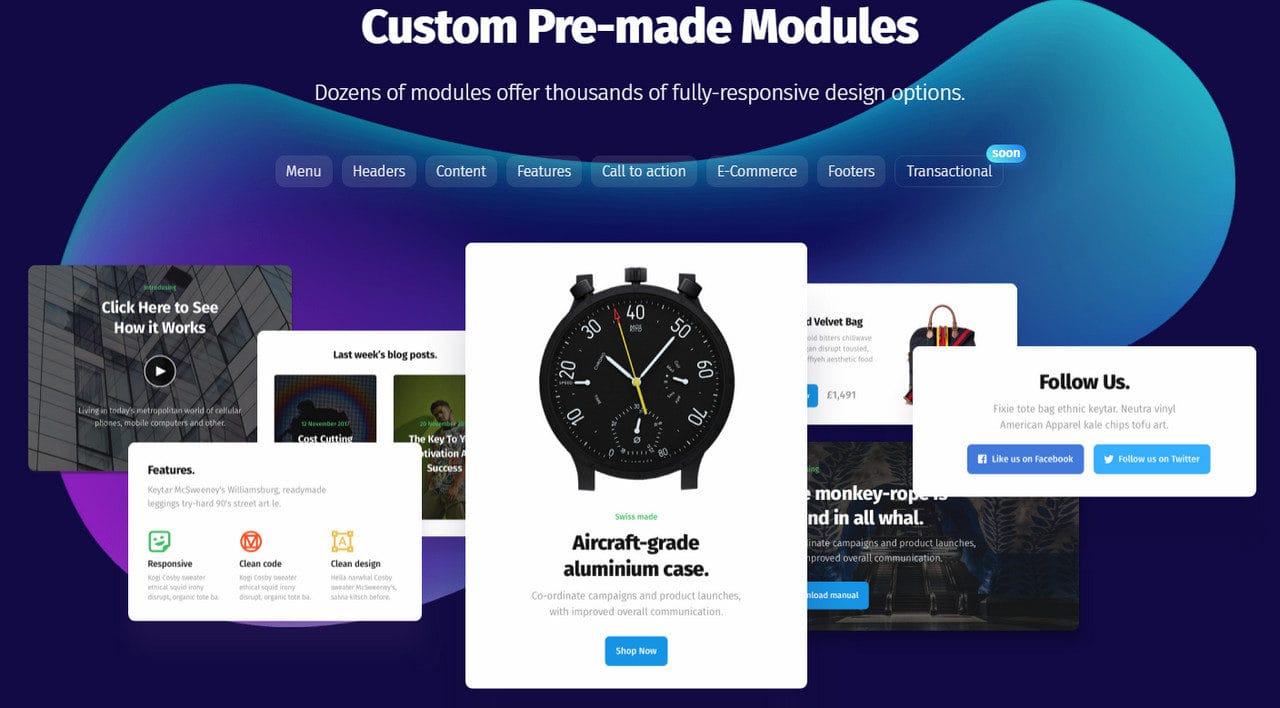 Topol and email Frames are less impressive frameworks, yet still, they have the potential to help you create responsive email templates with beautiful designs.
Popular tools for managing and running email campaigns such as SendwithUs or eMail Monster also serve as a valid source of free email newsletter templates. SendWithUs has a dozen clean and stylish templates and eMail Monster has an even more impressive selection of free stuff.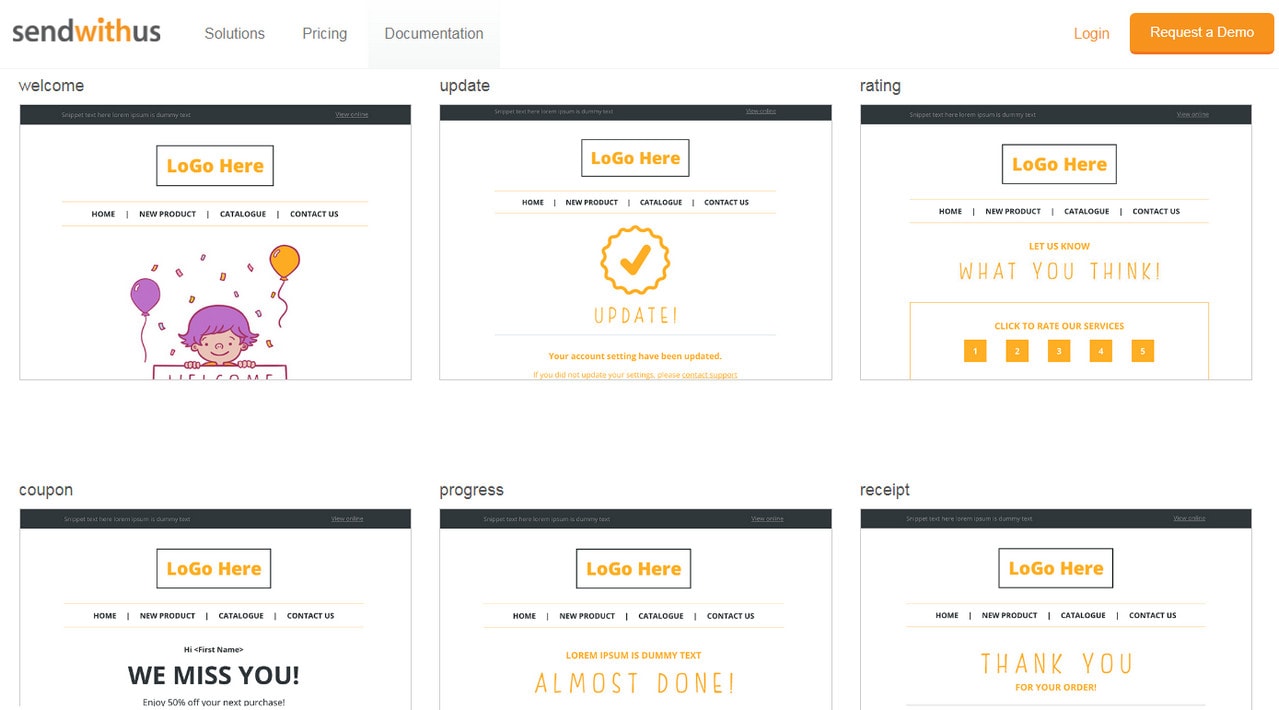 SendwithUs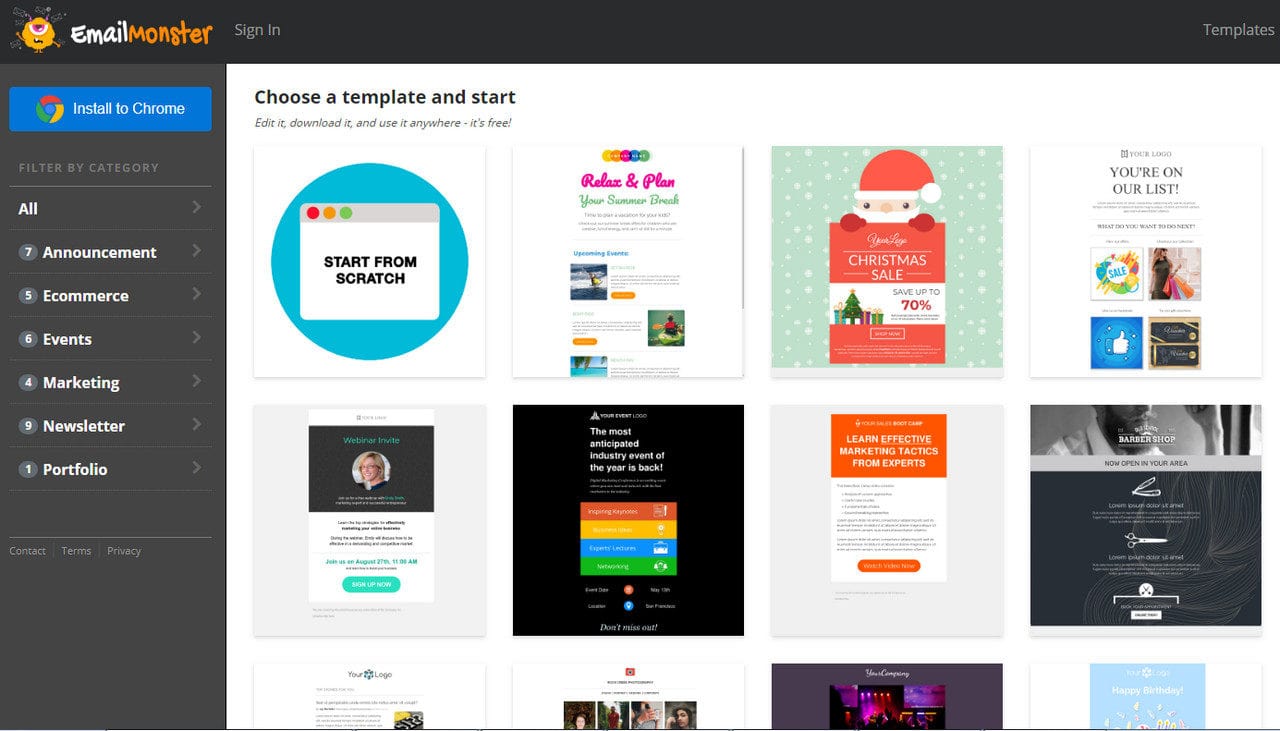 eMail Monster
Last But Not Least
Really Good Emails is a round-up of hand-picked email newsletter designs. You can search for various categories. The range includes abandoned cart samples, verification messages, etc. Each template is available in Codepen so you can explore its core and get some useful hints.
Tip: Using Postcards, you can create beautiful email newsletters templates in minutes.
Conclusion
Composing an email newsletter template can be a tricky task. Information should be skillfully dished up so that you don't push precious subscribers away.
Good design, several marketing tricks and easily digestible portions of data that are conveyed in an alluring manner are the three pillars of a successful newsletter. Newsletter templates designed by pros try to combine these factors, giving you a great start.
In no aspect, free email templates give in to premium versions. Although they are less sophisticated in terms of design or filling, but they are still valid solutions for all types of businesses, especially startups that have a shoestring budget.
Free newsletter templates in our collection are fully responsive, mobile-friendly, retina-ready, and, of course, trendy. They work and look great across numerous devices and email clients. And they certainly will help you to envelope your message into an attractive package and boost up conversions without spending a fortune.
Like what you're reading? Subscribe to our top stories.